It
is quite easy to repair MS Office

if an application such as Word or Excel no longer works as usual!

If you are a Microsoft Office user and feel that things are not working as they should, using the repair utility to fix the problem may help. As a rule, however, even with an update, for example with Microsoft 365 Office, an update can lead to various problems being resolved and that is already the solution.

Content:




1.) Remain the errors, repair MS Office!
1. Windows + R key combination 
2. Command appwiz.cpl
(This can also be done by opening the Control Panel under Windows, now select "Programs and Features", or App and Features) 
3. Select MS Office
4. Right-click and select the "Change" option
5. In the new window, either select Quick Repair 
6. Or the online repair from 
7. Click on "Repair".
(
... see Image-1 Point 1 to 6
)
PS:
The online repair takes longer, but it may also solve your MS Office problem, so sit back and wait until the repair is complete before you can use Microsoft 365 / or 2019, 2016, ... programs. 
(Image-1) Easy repair the Microsofts Office 365, 2019, ...!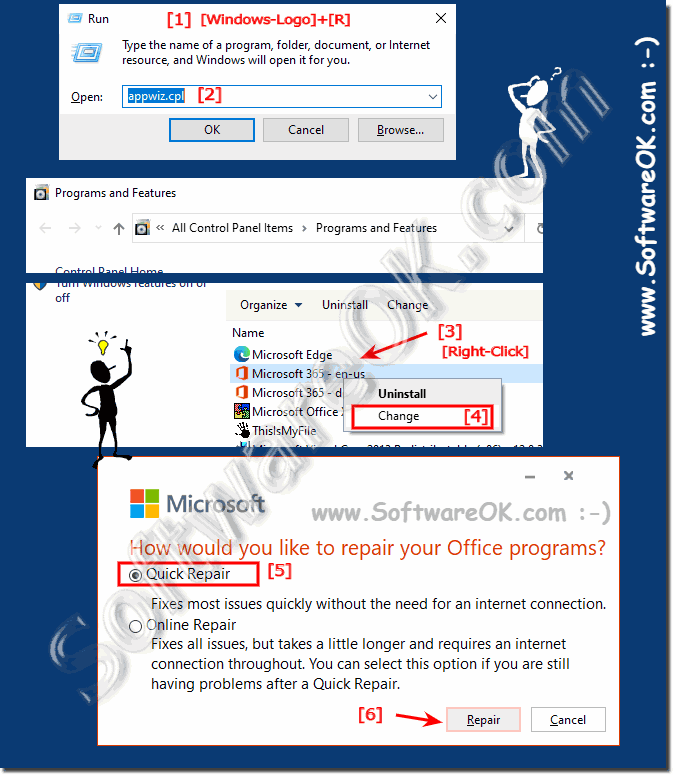 2.) Automatic updating / auto-update of MS Office! 
1. Start MS-Office Word (Excel works too) 

2. Go to Account (left area)

3. Update Microsoft 365 / or Office 2019, 2016, ...

(... see Image-2 Point 1  to 4)

PS : 
The Microsoft AutoUpdate ensures that your Office is always up-to-date and up-to-date, with the latest security updates, troubleshooting and improvements. If you're a Microsoft 365 subscriber, you'll also get the latest features and other Office tools.



(Image-2) Update Now the Microsoft Office 365, 2019, 2016, ...!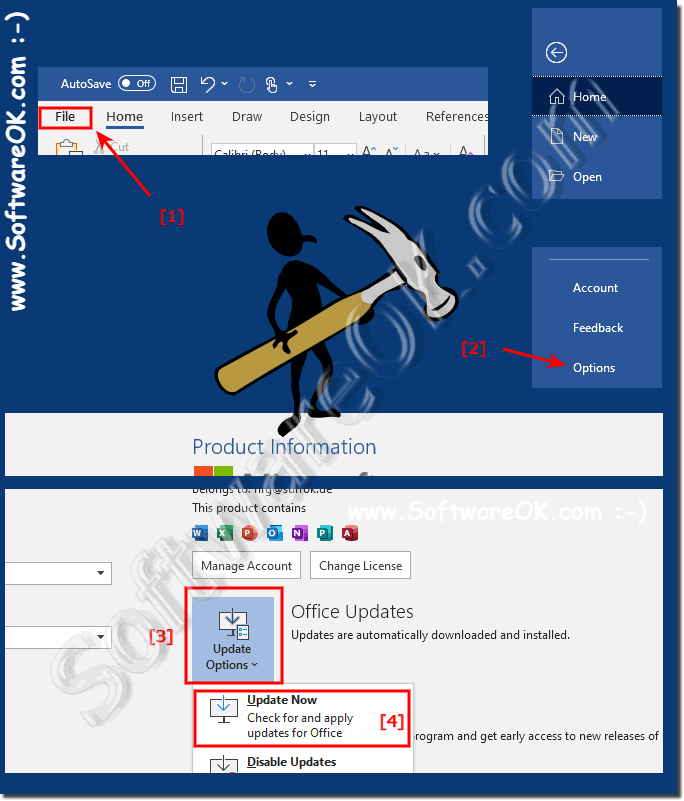 3.) The repair could not fix the error?
Try to uninstall the program via the control panel and then reinstall
Microsoft 365 / Office 365 / Office 2019, 2016, ...

(... see Image-3 Point 1 to 6)

PS:
If you don't know exactly which version of Office you have: 
►►  Which version of MS Office do I have?




(Image-3) Re-Install the Microsoft Office from ( on all Windows OS!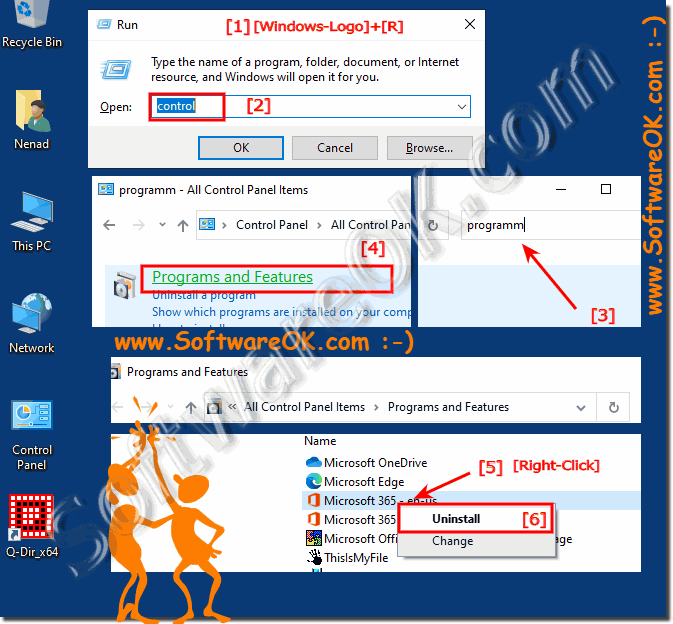 4.) Why do I have to repair Microsoft Office!


Well, you don't always have to repair Microsoft Office, but if you want to continue working with Microsoft Office, it is imperative that it works correctly and there is no way around repairing the Office package. The Microsoft Office repair examples described here usually work 100%. As long as there is no serious system problem that causes these errors, you can usually always use them well and the repair of Microsoft Office means that you can work in the documents again as usual.

However, there are reports from some Microsoft Office users who got stuck with the Microsoft Office repair, a system check might help here!





FAQ 31: Updated on: 29 September 2022 12:40