In order to display SVG thumbnails in Windows Explorer under Windows 11, 10, ... and MS Server, a shell extension for the operating system is required!


Preface: The SVG thumbnail tool that serves as an extension is free / open source and can not only create and display SVG thumbnails / thumbnails, but also display the preview of the SVG images in the file explorer!





1.) Downloading and installing the free SVG thumbnail tool!
1. Open the page: ►► https://github.com/tibold/svg-explorer-extension/releases 

2. Scroll to the item "Asserts" 

3. Download svg_see_x64.exe and install the SVG extension

( . .. see image-1 point 1 to 3 )

PS: Optionally, you can also install the 32-bit version svg_see_x86.exe for the 64-bit version , this works on all Windows operating systems!




(Image-1) SVG thumbnail extension for all MS Windows OS!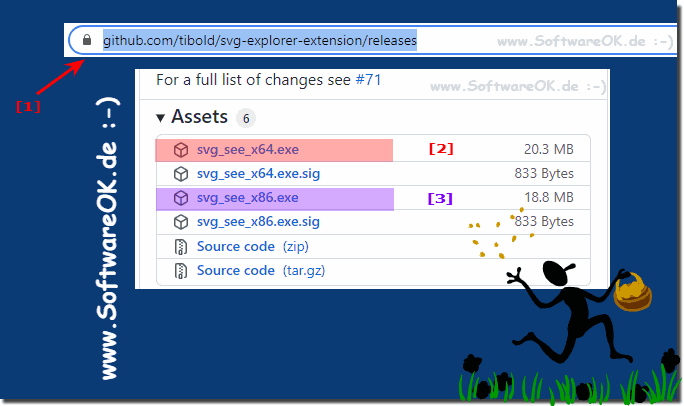 2.) The SVG thumbnails in MS File Explorer on Windows!

Here is an example of the SVG file preview and a nice overview of the thumbnails in Windows File Explorer. Really quite practical and clear!

( ... see image-2 )



(Image-2) Show SVG thumbnails in Windows Explorer!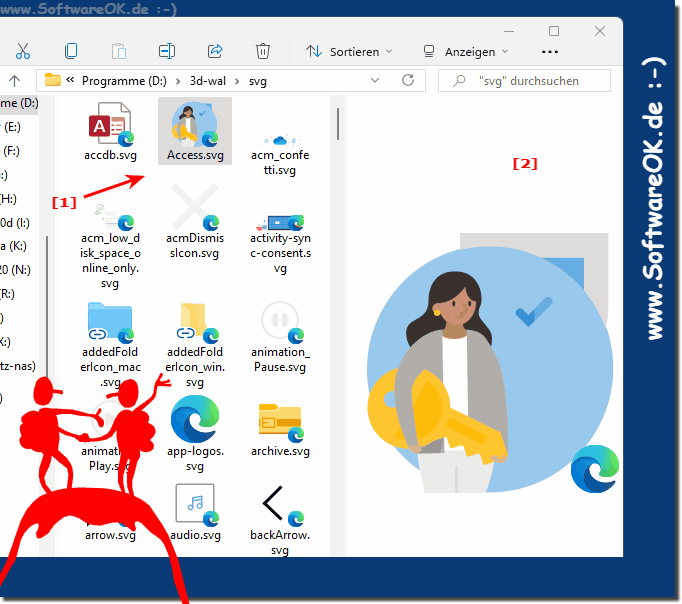 3.) Benefit from the SVG thumbnails in Quad Explorer for Windows!
You can also benefit from the SVG miniature views and the preview in the popular Quad Explorer for MS Windows OS. The SVG miniature views and the SVG preview can be addressed and used by any program. Which is very practical, as the SVG images hardly received any attention! 




(Image-3) SVG thumbnails and preview in the quad explorer Q-Dir!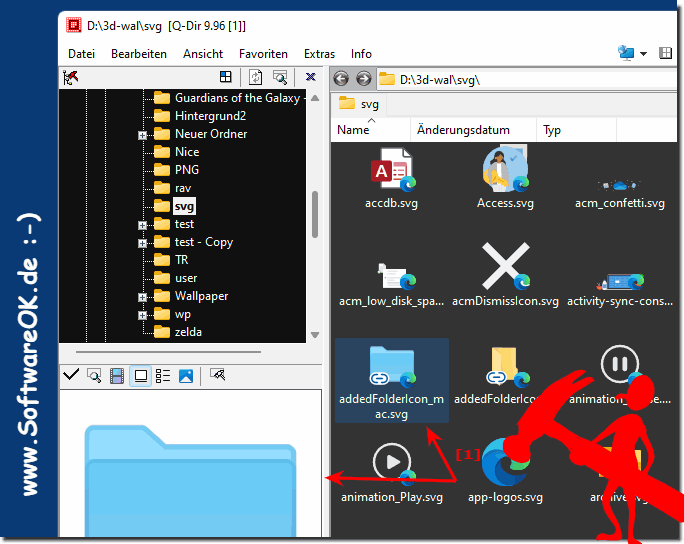 4.) What should I consider with the SVG miniature views, thumbnails and the preview?

If you also use x86 or x32 Windows on your Windows, you should install both extensions. So that all applications benefit from the SVG preview and the thumbnails, both should be installed. 





(Image-4) SVG thumbnails x64 or x32 on Windows!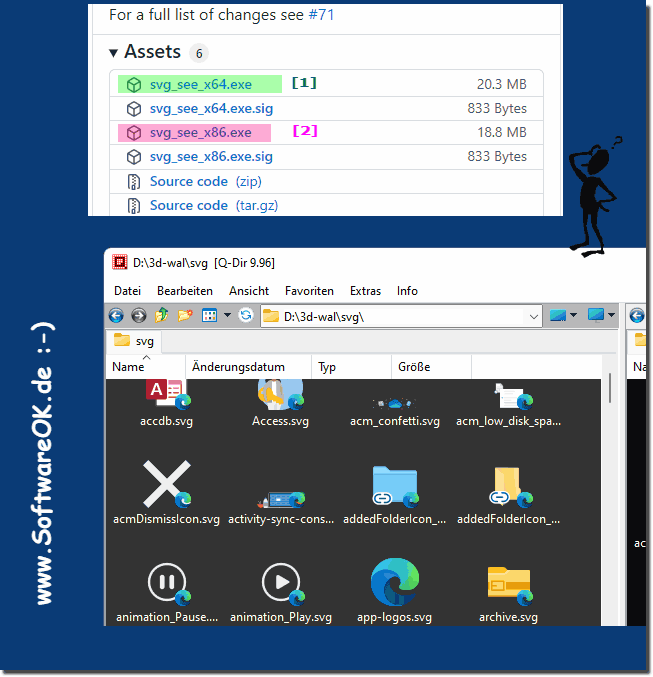 5.) When it comes to SVG thumbnails, thumbnails and previews in MS File Explorer!

Yes then, you should note the following:

Thumbnails and Previews:

Thumbnails and thumbnails are two different types of file previews. Thumbnails are small, static images that represent the contents of a file. Thumbnails are larger, dynamic images that display the contents of a file in real time.

In Windows 11 and 10, SVG files are not displayed with thumbnails or thumbnails by default. If you have problems with the SVG thumbnails, thumbnails, or preview in File Explorer, you can try clearing the icon cache. This can be done through the following steps:

Here are some more tips for SVG Thumbnails, Thumbnails and Previews in MS File Explorer:

- If you have many SVG files, it may take some time to create the thumbnails or thumbnails.

- You can adjust the size of the thumbnails or thumbnails by changing the "Thumbnail Size" option in File Explorer Options.

- You can enable previews for all file types by checking the "Show thumbnails for all file types" checkbox in File Explorer options.

When viewing SVG files in Microsoft File Explorer, especially in thumbnails, thumbnails, and preview, there are a few things you should keep in mind to ensure that the display is correct and there are no problems. Here are some important considerations:

SVG Compatibility:
Not all versions of Microsoft File Explorer support SVG files in thumbnails and previews. Make sure your file explorer is up to date to ensure the best possible support for SVG files.

SVG version:
Microsoft File Explorer may not support all SVG versions or features. It's best to save SVG files in 1.1 or SVG 2.0 format, as they tend to be better supported.

Vector graphics:
SVG files are vector-based, meaning they are scalable and have no loss of quality when enlarged or reduced. This should be taken into account in the thumbnails and preview to ensure the graphics are sharp and clear.

Check content:
Because SVG files can also contain scripts and hyperlinks, you should be careful when opening SVG files, especially if they come from unsafe sources. They could pose potential security risks.

File Conversion:
When exporting or converting SVG files to other formats, you should ensure that the quality of the vector graphics is preserved.




Viewing SVG files in Microsoft File Explorer may require additional steps and customizations. However, with these considerations you can ensure you get the best results and can manage and view SVG files properly.





FAQ 4: Updated on: 18 October 2023 20:00