The simple mounting of ISO files under all MS Windows OS is quite popular, especially if you have downloaded installation packages in ISO format!


Contents:




1.) Mounting ISO under Windows 11, 10, 8.1!
Option-1:
Double-clicking on an ISO file automatically initiates the mounting. However, this will not work if you have ISO files associated with another program on your system, i.e. the
Windows file assignment
for ISO on the system has been changed!
Option-2:
Right click
on an ISO file and select the option
"Mount"
it will be assigned a drive letter automatically, here in the example it is mounting the installation image Windows11.iso and the Windows assigned drive 
'J'
(
... see Image-1
) 
(Image-1) Mount ISO on any MS Windows OS!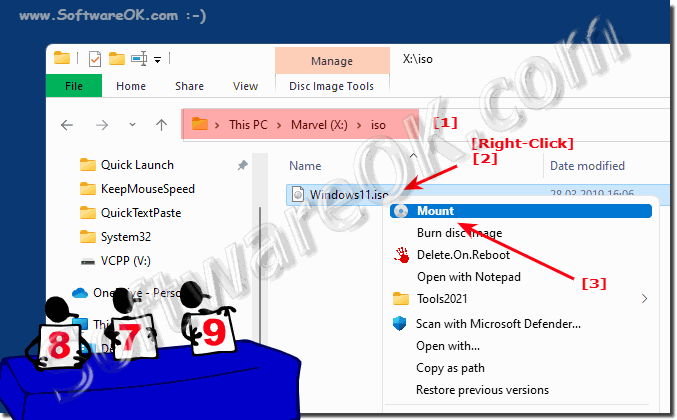 2.) Mount ISO under all MS Windows OS!

If you need to mount ISOs under older MS Windows, you can use a free tool 

Mount ISO, CUE, NRG, MDS/MDF, CCD and IMG

download and info ►►  https://wincdemu.sysprogs. org/

After installation, you can right-click to mount your ISO, ... easily!

(... see Image-2 Point 1 to 3) 



(Image-2) Mount ISO on old Microsoft Windows OS!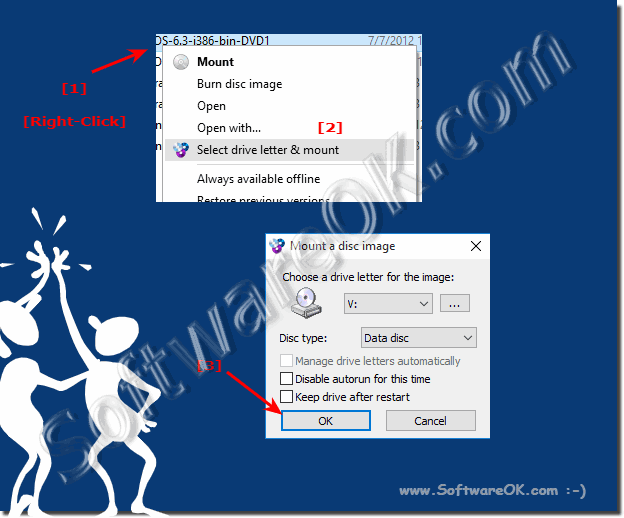 3.) More tips on ISO, mounting, formats, ... on MS Windows!
ISO files are not only the most popular, but also the most used format to use DVD, CD, ... as virtual drives, here are more tips related to this topic!







FAQ 25: Updated on: 22 September 2022 16:17