A triple click is three clicks in rapid succession, typically the second and third clicks should follow within 1/4 second.



The clicks are usually made with the left mouse button, unless the mouse is left-handed so that

the left and right mouse buttons are swapped

. Changing the double-click speed and swapping the mouse buttons can be done quickly on any modern operating system!


Click three times without moving the mouse = triple click

Content:




1.) Example under MS Windows OS affect triple click speed!
1. Start / open the mouse settings 

2. Windows + R key combination and the command  main.cpl

3. Now simply adjust the double-click speed in the Keys tab

4. And optionally swap the left and right mouse button

(... see Image-1 Point 1 to 4) 




(Image-1) triple click and double click speed on MS Windows all OS!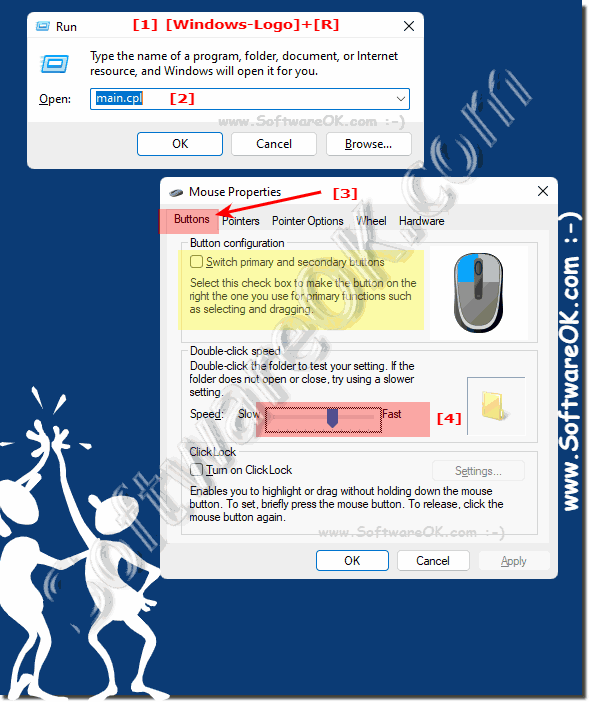 2.) Who needs the triple click and where to use it!

Few programs support triple click, but you can test it in any text editor. A triple click marks the entire line! 

Just double click and then another click = triple click

Test area: 



Now try this paragraph by quickly clicking any word in the paragraph three times.









3.) What should I consider when triple-clicking?
Only the time intervals are important with the triple click, which, as described above:
►  ... affect the triple click speed 
can be easily adjusted! 

The term triple click is a special form of click used in IT. With this type of mouse click, the mouse button is clicked three times without moving the mouse! 




Triple-clicking is usually a special type of mouse operation. Here are some things to keep in mind:




Speed: To triple click, you have to click the left mouse button three times in quick succession. The exact speed required may depend on your mouse or operating system settings. Try to perform the clicks relatively quickly one after the other.

Precision: Try to press the mouse button precisely to avoid accidental clicks. Proper aiming is particularly important as a triple click is typically used to trigger a special action.

Usage: Triple-click is often used in software applications or on the desktop to perform certain actions, such as: E.g. highlighting text, opening files or selecting items. Make sure you are using Triple Click for the right purpose and that the appropriate application or operating system supports it.

Adjust settings: In some cases, you can adjust the sensitivity and behavior of your mouse in your operating system's settings. This can be helpful to customize the triple-click functionality to your needs.

Practice: As with most mouse actions, triple-clicking requires practice. Over time you will get better at developing the right speed and precision.




The exact requirements for a triple click may vary depending on the software and operating system. It's a good idea to consult the documentation and help for the specific application or operating system in which you want to use Triple-Click to make sure you're doing it correctly.





FAQ 267: Updated on: 17 October 2023 19:20