The vector graphics are often used for high quality graphics / images that use mathematical equations!

Since the vector graphics use mathematical equations to draw or create designs, they can be reduced or enlarged almost unlimitedly. These math equations are translated into points / vectors that are stored either by lines or curves, also known as vector paths (hence the name). These vectors are connected as polygons and can all represent different shapes that you can see in a vector graphic.


As mentioned, this enables the vector graphics to be scaled to any size without affecting the image quality, as well as maintaining a small file size. Common vector file formats are .svg, .cgm, .odg, .eps, and .xml. In the past,
EMF and WMF
were also  used, which were unfortunately totally neglected, but were always included in old
MS Office packages
. It is completely different with RAW images, jpg, png, gif, .... Here only the pixels are saved and there is a serious loss of quality when enlarged!  
Here in the picture you can see the two little man, in which you can not see any losses when enlarged!
(Image-1) What is a vector graphic?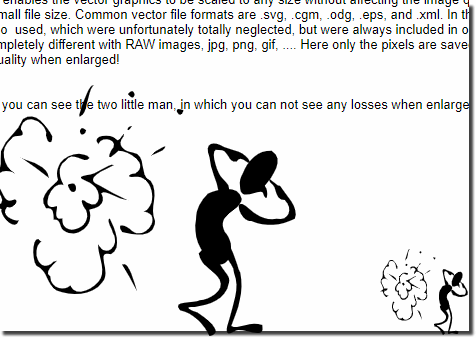 FAQ 158: Updated on: 16 September 2020 15:38