It is quite easy to see or view uninstalled or not installed Windows 11, 10, ... etc. fonts with the freeware FontViewOK ,




 



Content:



1.) The listing of fonts under Windows!
if you have already downloaded Freeware FontViewOK. If not ... Download FontViewOK

Please start FontViewOK, in "FontView OK" Click on the Button From folder. Then simply select the directory from which the fonts (fonts) to be displayed. (see Image-1)

That's it!

It is quite easy not only to look at and inspect uninstalled fonts under Windows 10, this function is available to you with this free tool under all Windows operating systems, such as --- OS_Windows6 ---, as it is also a portable application works and thus can be executed without installation, you can use it everywhere.
  
A font is a graphical representation of text that may contain a different font, point size, weight, color, or design. You may be familiar with the fonts used to display the currently installed fonts, or install or uninstall fonts. Not only Android and MAC have nice font functions, this control panel in Windows could not use any newer font functions, such as: As color fonts, or display variable fonts and an update was required. As of Windows 10 2018, Microsoft introduces new features for managing your fonts in Preferences.

►►► How to Preview Fonts installed  in Windows 10 !
2.) Export as image file from the selected fonts!
(Image-2) Create a Image from selected fonts ergo create picture file!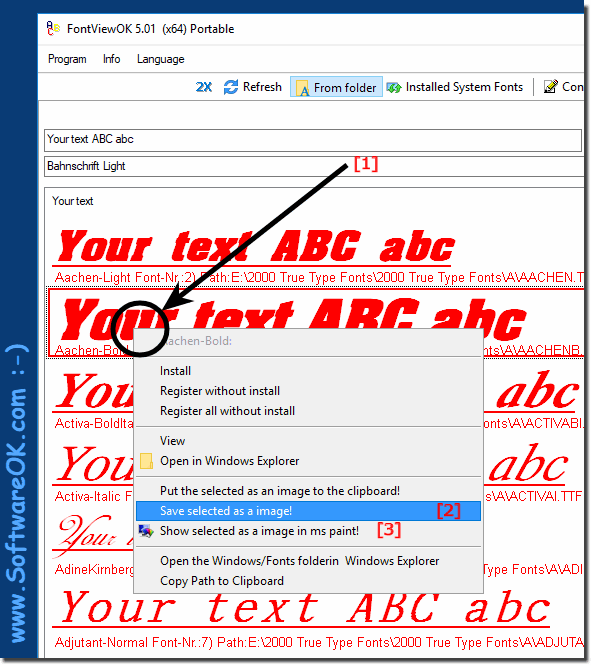 Info:

Here you have found a great Windows freeware that let you easily browse the installed fonts on your computer so you know what's available to you in your Windows applications. Of course, you can use the Fonts drop-down menu in any application, but they are often awkward and do not allow you to select the sample text. This can be a flagship of the future under the new Windows 10, which is constantly being improved by Microsoft. You can easily use this simple and fast font solution on older versions of Microsoft's Windows operating systems, whether it's a Windows desktop, tablet, Surface Pro / Go, or even a server operating system.


3.) What is the font drop-down list for?


User question:


I just start to play with your helpful program. What is the effect of the font name drop-down list?


Answer:


Displays the selected font name in the list view and, if necessary, selects a different font in the list view. I will give more meaning to this box in the next versions.



(Image-3) Selection field for font name in windows Fonts-View!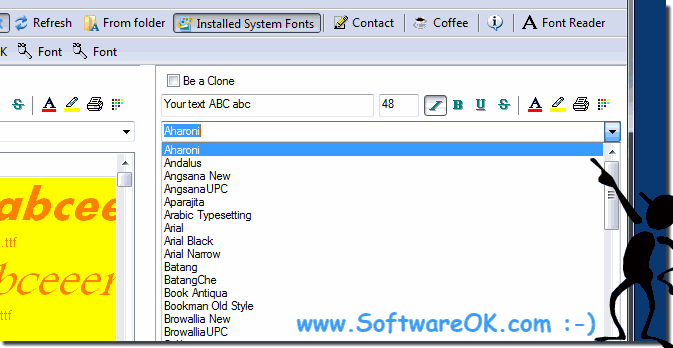 4.) Exclude subfolders while listing the fonts!
(Image-4) Show not installed windows fonts without subfolders!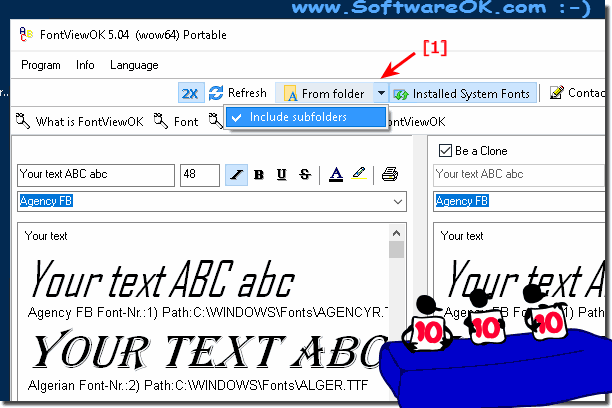 No matter if with or without sub-folder the fonts can be listed quite clearly, under all Windows systems! 





FAQ 1: Updated on: 29 August 2023 09:38