A simple check of the hard disk condition using WMIC under Windows 11, 10, 8.1, ... and MS Server!


Everyone knows the search for faulty system files , but there is another WMIC tool with which you can quickly query the status of the hard drive! Before you run this simple test, you must close all running programs and save your work.



Content:
1.) Determine hard drive status using WMIC!

2. Enter the command WMIC

3. And then the command

diskdrive get status



( ... see Image-1 Point 1 and 2 )

PS: 
WMI will query your drive to get SMART information from your drive. Most people get an OK message. All problems with your drive will be explained and you will need to consider whether to repair or replace your hard drive.




(Image-1) Check the hard disk condition using WMIC!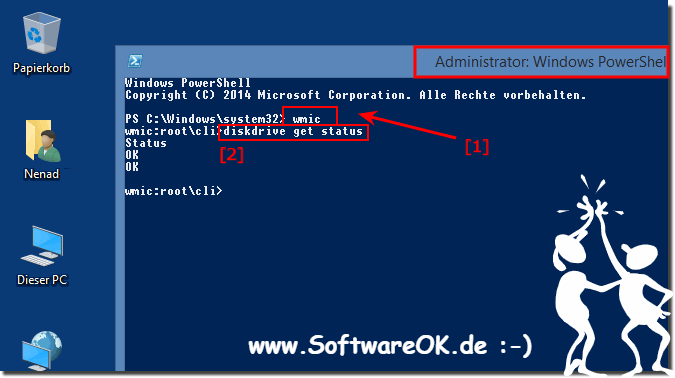 2.) What does that say about my hard drive, is WMIC sufficient, or is there a better way to determine the hard drive status?




The Windows Management Instrumentation Command-line (WMIC) is a useful tool in Windows operating systems that allows you to obtain information about hardware, software, and system components. This also includes information about hard drives, including their condition.




However, WMIC may provide limited information about the actual state of the hard drive. If you need more specific information about the hard drive health, such as Self-Monitoring, Analysis and Reporting Technology (SMART) values ​​or error conditions, you should use a dedicated hard drive diagnostic tool.

Such a diagnostic tool could be "CrystalDiskInfo", "HDDScan", "HDTune" or "smartmontools". These tools specialize in providing detailed information about the health of your hard drive and display warnings of impending hard drive problems.

Overall, WMIC is a useful option for getting basic information about your hard drive. However, for more comprehensive diagnosis and monitoring of hard drive health, you should turn to dedicated hard drive diagnostic tools.

In fact, there are specialized software and tools that provide more comprehensive and detailed information about the health of a hard drive than WMIC. Some of these tools are known for their ability to monitor hard drive health and identify potential problems. Here are some examples :

CrystalDiskInfo : CrystalDiskInfo is a popular and easy-to-use tool that displays detailed information about your hard drive's health, including SMART values. It can also generate warnings about impending hard drive problems.

►►  Monitor status, temperature, condition of the hard drives SSD, HHD, ...?

HDDScan : HDDScan is another free application that monitors SMART values ​​and displays information about the health of your hard drive. It can also perform surface tests to check for bad sectors.

HDTune : HDTune is a comprehensive hard drive diagnostic tool that can run a variety of tests to check the health of the hard drive. It also offers real-time monitoring and benchmarking features.

IsMyHdOK : IsMyHdOK is a comprehensive hard drive tool that can run a variety of speed tests to check the health of the hard drive. It also doesn't offer real-time monitoring, but it does offer benchmarking features. With IsmyHdOK you can get basic information about your hard drive, such as model, capacity and SMART values. It also provides some tests to check hard drive performance and detect errors. However, keep in mind that IsmyHdOK may not be as comprehensive as some of the previously mentioned specialized hard drive diagnostic tools.

►►   IsMyHdOK 3.93 - SSD, HDD, SD cards, USB sticks quick test.

smartmontools: smartmontools is an open source command line utility for Windows and other operating systems that displays SMART information and provides monitoring capabilities.

It is important to note that choosing the right diagnostic tool depends on your individual needs and preferences. If IsmyHdOK meets your needs and provides you with the information you need, you can use it. Otherwise, there are various other tools available that you can use to check the health of your hard drive.

FAQ 34: Updated on: 21 October 2023 11:20