Good question if you are looking for the right file system for the USB data carrier!



The first thing you should ask yourself is how big are my files?
Second, how big is the disk?

Almost all operating systems and media players can access FAT or FAT 32, but files over 4 gigabytes cannot be written here.

The exFAT has no restrictions, but is not supported by all operating systems.  

So you get to the NTFS, which also has no restrictions in terms of file size and is supported by most media players.

So for files under 4 GB and hard disks under 2 tera bits you can use the FAT32 file system, if not, then the NTFS.




Tip:
You can activate the file system column under Windows 10, 8.1, ... in order to recognize the formatting of the hard drive and other data carriers immediately and quickly! ( ... see Image-1 )




(Image-1) The file system column under Windows 10 to recognize the formatting!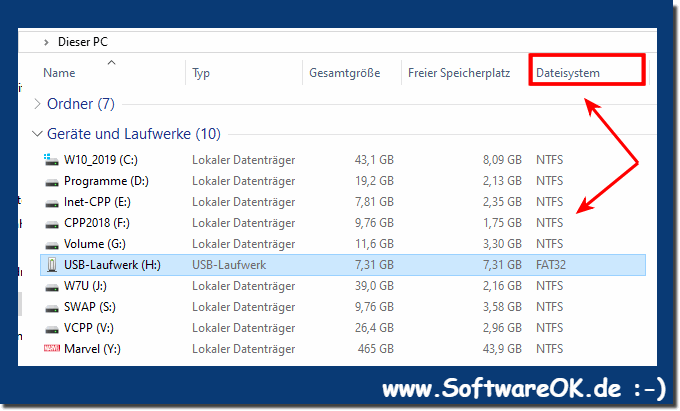 Info:
A file system is a specialized method of storing and organizing your information on various storage media, including
hard drives, solid-state drives  , pen drives , and other devices
. It allows files and folders to be saved, changed, and read for applications and the operating system installed on your computer. When you format your internal drive or a flash drive, prepare it for your operating system to use as a storage medium. During this process, the file system is created. All information stored on the drive or partition is removed.

FAQ 18: Updated on: 28 August 2023 17:46