It is quite easy to set a fixed time for the shutdown or the don't-sleep timer when the program starts on the Microsoft Windows OS!



Content:



1.) The definition of shutdown in Don't-Sleep for MS Windows! 
1. Start as always ►► Don't-Sleep for MS Windows 

2. Set  the desired time in the timer
(PS: here in the example that the PC shuts down every day at 22:00)

3. Go to Button

"Options"

Point

"Program startup"

 

4. Now simply option

"Current Timer"

 

(... see Image-1 Point 1 to 5)




PS:

It's that simple! Please do not be confused, it is displayed at the beginning of 00:00:00, after setting, the correct time then appears in the menu. To test, please restart Don't-Sleep, for example via the menu item "Don't Sleep"> "Restart". Now when the program is restarted, the timer should always be set to "22:00:00" automatically!






(Image-1) Fixed time for the shutdown, or set a timer when the program starts!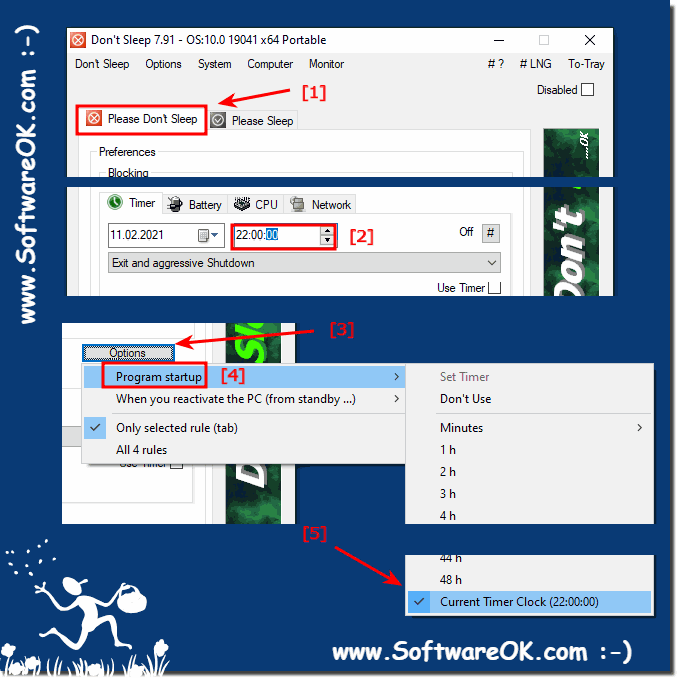 2.) Specify optional features using the standard MS Windows tasks!
Sometimes you want the server to shut down on a certain date, day of the week, day of the month then you can also use the Windows tasks in combination with the shutdown      

EXAMPLE-2:
You want the PC to be restarted every Monday at 8:00 a.m.




at 08:00 /EVERY:M "shutdown /r /f /t 3 /c"




PS: for days of the week (use the following abbreviations: M, T, W, Th, F, S, Su)

EXAMPLE-2  

Force shutdown on the computer on the 1st of each month at 10 a.m.




at 10:00 /EVERY:1 "shutdown /s /f /t 0 /c"





EXAMPLE-3

Forcing the computer to shutdown on the 1st and 15th of the month at 1am


at 01:00 /EVERY: 1.15 "shutdown /s /f /t 0 /c" 

 

PS: For one or more days of the month (use the numbers 1 to 31). 



FAQ 25: Updated on: 12 September 2023 06:18