Rarely the desktop snow doesn't work, but it can happen after Windows 11 or 10 Big Update!



Everyone knows about the Windows 10 update problems , but if the snow stops snowing on the desktop for some reason, you are only upset. Mostly it is due to PC protection by Windows Defender, or that  some other programs are missing after the update, or that your PC cleaning software has deleted the desktop snow because it is not so important, often it is PC Cleaner or otherwise personal computer cleanup measures that can lead to such serious snow loss, but the snow loss problem is easy to fix!

Content:



1.) Check the working directory in the snow desktop!
1. Open the desktop folder  (or look for the snow symbol on the desktop) 

2. If it looks like this in the desktop folder of the Windows desktop snow, everything is fine

3. Not good ( . .. see image-1 point 1 )

Directly to:  Restoration of the desktop snow by new download ! 

4. If it does , simply try to get the Windows Desktop Snow to run via the DesktopSnowOK.exe

5. If it works that the Windows Desktop Snow falls again simply activate "Start with Windows" in Windows Desktop Snow so that the Windows Desktop Snow is started again with Windows!

6. Or: What can I do if all measures do not work!



(Image-1) I Lost the Snow on Windows, no snowing on my Desktop!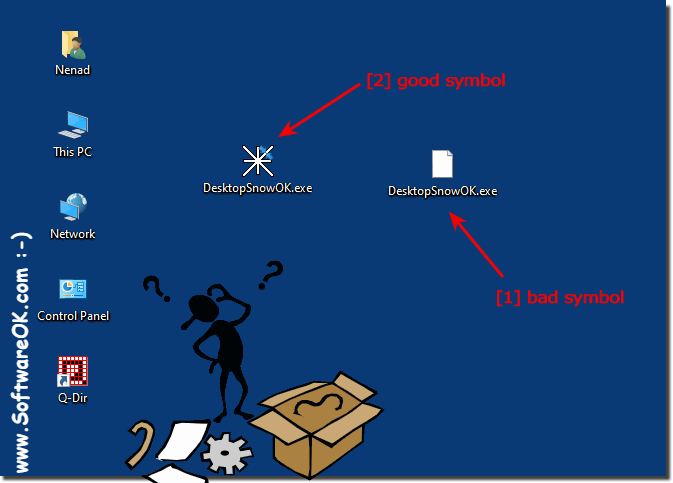 2.) Restore the desktop snow by reinstalling it!
1. In the download area you will find the desktop snow

2. Open the download folder in the file explorer

3. Place the desktop snow on the desktop by simply dragging and dropping

4. Start the desktop snow

5. Optional "Start with Windows" activate in order to automatically start the snow with Windows

(... see Image-2 Point 1 to 4)

The classic desktop snow does not have to be installed, you can easily start the desktop snow directly from  the desktop  and it can be used immediately on your Windows desktop. So this digital snow cannon can make it snow on the Windows desktop! 



(Image-2) Put the snow on the desktop and start at Windows 10 login!

3.) What can I do if all snow measures do not work! 
Try to start the desktop snow with the Windows Defender disabled, if it works there, then you may not have any problems with the desktop snow in the 32 bit version, simply by using  the 32 bit version of snow in the desktop Snow has no functional disadvantages in the 32 bit version!



Fortunately, they also fall on the desktop!



(Image-3) Windows 10 it is snowing again on my desktop!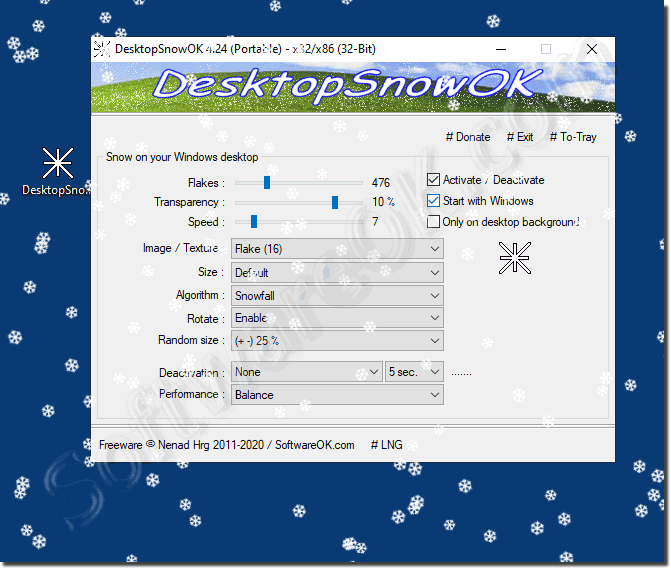 FAQ 8: Updated on: 30 August 2023 15:49