The
automatic arranging of icons is the most common problem

in DesktopOK , when you restore the icon positions!

Please disable the auto arrange order for the Desktop Icons / Symbols in Windows (11, 10, 7, 8.1)! Sometimes this is unconsciously activated, unconsciously or through Windows updates, or moved or deactivated some icon position options in Windows 10 / 11 when restarting!



Please always use ... the latest version of DesktopOK. 

1.) Disable icon auto arrange in DesktopOK!
Please open DesktopOK and open the Options Menu, select Desktop Auto-Arrange 

(... see Image-1)




(Image-1) Disable Desktop Icons auto arrange!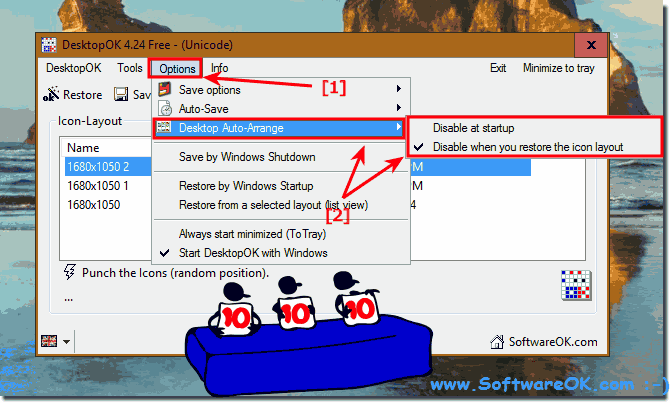 2.) Disable Auto Arrange via Desktop Right Click!
Please

do a right click

on the Windows Desktop and select

View

and disable (unchecked) Auto arrange icons.
(... see Image-2)



(Image-2) Desktop Icons auto arrange Problem in DesktopOK!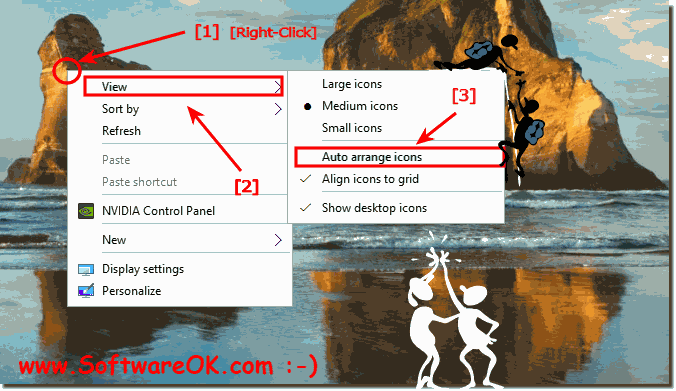 3.) Overwrite existing entry from Ver. 4.99!

Right-click on the icon layout that should be overwritten (... see Image-3 Point 1 and 2)



1 - Highlight a specific Icon Layout from the list

2 - Right click on it

3 - Choose the

Save symbol layout here

(Update Layout) feature/option




(Image-3) Overwritten Desktop Icons Layout!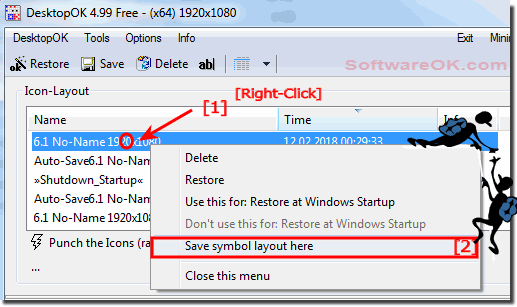 Restore Desktop Icons Problem solution for: Windows 11, 10 , 8.1, 8, 7: Pro, Home, Enterprise, Basic, Premium, Professional, Starter, Ultimate, Windows-Server 2019, 2016, 2012



FAQ 20: Updated on: 4 April 2022 11:46