Yes, you can also save the icon positions without Admin rights. Please use the DesktopOK version 1.75 and higher.


And also on Windows Server when connect via Remote Desktop, you can save the Desktop Icon Layout.

If there are problems with the storage (save) of the icon layout in the

"DesktopOK.ini"

, you can optionally rename the DesktopOK.exe in DesktopOK_reg.exe.

In this case, the Iconlayout and the settings will be saved in the registry. Under: "HKCU/Software/SoftwareOK.de/DesktopOK" 

Please always use ... the latest version of DesktopOK. 



(Image-1) Save the desktop icon layout in the Registry!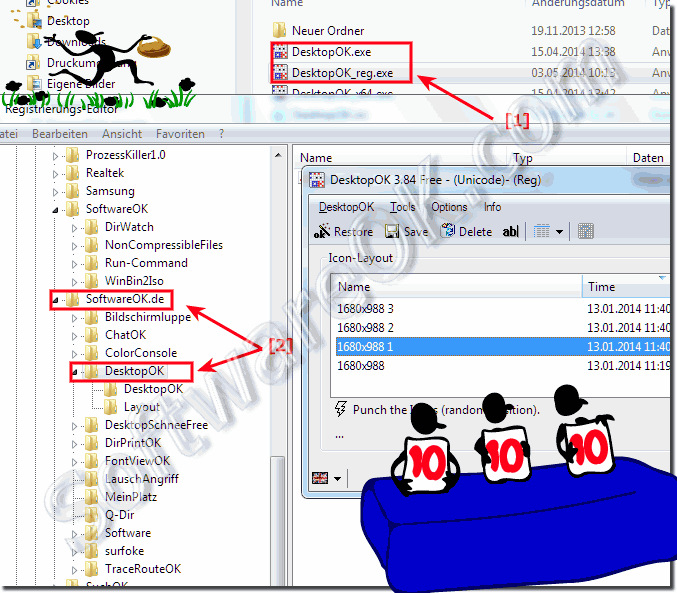 This save the icon positions without Admin rights is suitable for: Windows 10 Pro, Windows 10 Enterprise, Windows 10 Home, Windows 8.1, Windows 8.1 Enterprise, Windows 8.1 Pro, Windows 8, Windows 8 Enterprise, Windows 8 Pro, Windows 7 Enterprise, Windows 7 Home Basic, Windows 7 Home Premium, Windows 7 Professional, Windows 7 Starter, Windows 7 Ultimate, Windows Vista Enterprise 64-bit edition, Windows Vista Ultimate 64-bit edition, Windows Vista Business, Windows Vista Business 64-bit edition, Windows Vista Enterprise, Windows Vista Ultimate

FAQ 16: Updated on: 8 January 2018 13:07