Everyone loses data at some point, either from a computer or hard drive failure, or your files are lost to a software bug not only on Windows 11, 10, ...!


Contents:





Important files and documents could also be lost through accidental deletion. If you don't back up your computer regularly, you could lose these files forever. If you've spent hours and days laboriously saving audio, video CDs / DVDs to your hard drive, you should back up these files as well, back up all your personal documents, photos, home videos, etc!


1.) Back up the data on an external drive!
If you have an external USB hard drive or a large USB stick, you can use the built-in backup functions of your computer to create a backup copy. Use the file history  under Windows 11/10 / 8.1 / 7. Use Windows Backup of 

Windows 7

. There is Apple's Time Machine among MAC computers . Occasionally connect the drive to your computer and use the backup tool, or leave it connected whenever you are at home and it is automatically backed up.

Command: control.exe /name Microsoft.BackupAndRestoreCenter 

(... see Image-1 Point 1 to 7)

Pros:
Backup is cheap and fast.
Disadvantage:
If your house is robbed or catches fire, your backup can be lost along with your computer, which is very bad.



(Image-1) Backup and restoring on Windows 11, 10, ... etc.!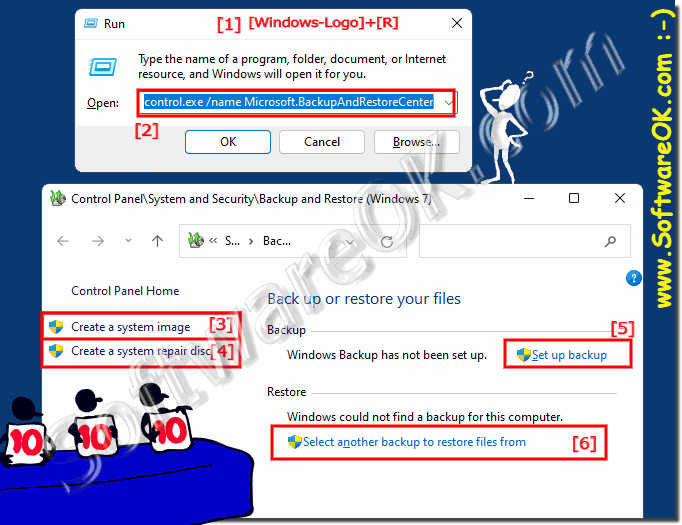 2.) Use a storage service in the internet!


Instead of just saving your files on your computer's hard drive, you can use them on a service such as Dropbox,  Google Drive,  Microsoft OneDrive, or a similar storage service for additional storage or backup of your data. Registration is required here, the data will then be automatically synchronized with your online account and with all your other PCs.

If your hard drive fails, copies of the files will still be stored online and on other computers automatically.

Pros:
This method is easy, quick and in many cases free of charge. Since it is online, it will protect you from all types of data loss.
Disadvantage:
Most services only offer a few gigabytes of storage for free. This only works when you have a small number of files that you want to back up or when you are willing to pay for additional space.


3.) Back up data over the Internet!
For a small monthly fee, these programs run in the background on your Windows PC or Apple's Mac and automatically save your files in the Internet storage of the relevant service provider. If you ever lose your files and need them, you can get them back.

Some backup Dien Enste  
Backblaze ,  Mozy Home ,  STRATO.de ,  ScureSafe ,  Barracuda.com ,  my-server-hosting.de , etc ...
 

benefits:
Online Backup protects you from any kind of data loss, hard drive failure, theft, and everything between. Disadvantage:
These services are not always free and the backup can take much longer than on an external hard drive, especially if you have a large number of files.




Ultimately, all you have to do is think about where your files are and make sure you have multiple copies at all times. Ideally, these copies should be in more than one physical location. As long as you think about what you are going to do if your computer crashes, you are one step ahead and just need to restore your data.




4.) What is the best data backup for me?


Depending on the files you want to back up, this or other methods can be easier or more complicated than a simple backup program.

In terms of data protection and personal data you have to go astray yourself, which is more important to you, you can also use drive encryption, but this brings additional problems with it if you lose your password.







FAQ 83: Updated on: 26 July 2021 09:15