Under any Windows 11, 10, ... etc. you want to display My Computer or This PC as an icon on the desktop!





Info:
This is a universal icon solution for all Windows desktop PCs and also for Microsoft Windows Server! 




Content:



1.) My computer as an icon!


Please press the key combination [Windows-Logo] + [R], now the  desktop symbol settings  via Windows command   desk.cpl ,,5  open. 

In the desktop  icon settings window you can decide for yourself what kind of icon you want to see on the Windows desktop.



(Image-1) Show My Computer or My Computer as an icon?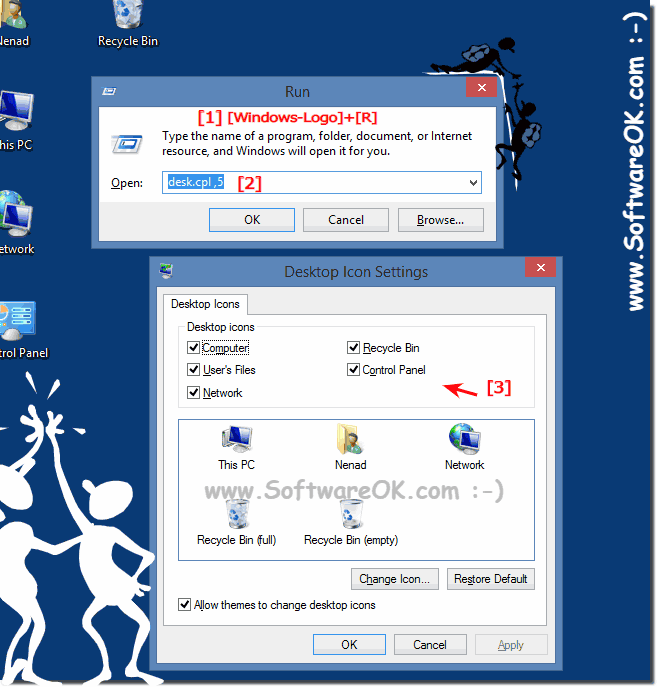 2.) More tips on icons and Co. on MS Windows!





Here are more tips and information about icons and related tasks on Microsoft Windows:

Change desktop icons:
Right-click the desktop and select Personalize.
Click "Topics" in the left sidebar.
Under Related Settings, click Desktop Icon Settings.
Here you can change the icons for This PC, Trash, and others by selecting an icon and clicking Change Icon.
►►  Customize which desktop icons are displayed in Windows 11

Create custom icons:
You can create custom icons using various image editors, ensuring they are in .ico format.
To apply a custom icon to a folder or file, right-click, select Properties, go to the Customize tab, and click Change Icon.
►►  How do I create symbols / icons for Microsoft Windows?

To resize icons:
Right-click an empty area of ​​the desktop.
Hover over View to see different icon size options (small, medium, large, extra large).
►►  Windows 10 / 11 desktop icons are so big, why?

Organize desktop icons:
To auto-arrange desktop icons, right-click the desktop, hover over View, and select Auto-arrange icons.
You can also move and organize icons manually by dragging and dropping them.
►►  Save icon layout when program starts and ends Pin


icons to taskbar:
Right-click an application in the Start menu and select "Pin to Taskbar" to keep it on the taskbar for easy access.
►►  Pin Windows 7, 8, 10 programs to the taskbar?

Notification area icons:
Customize which icons appear in the notification area by right-clicking on the taskbar, selecting "Taskbar Settings," and scrolling down to "Notification Area."
►►  Windows notification area meaning?

Shortcut icons:
You can create shortcuts to applications, files, or folders by right-clicking the item and selecting Create Shortcut. You can then move this shortcut to your desktop or elsewhere.
►►  Desktop shortcut for the calculator on the Windows 10/11 desktop  

favicon icons in browsers:
Many websites have favicons (small icons) that appear in the browser tab. You can bookmark a website and the favicon will appear in your browser's bookmarks bar.

Icon themes:
Some third-party software allows you to install icon themes to change the overall look of your desktop icons.

System Icons:
You can turn system icons such as clock, volume, and network on or off by right-clicking on the taskbar, selecting "Taskbar Settings," and scrolling down to "Notification Area."

Keyboard shortcut:
Pressing Win + D will minimize or restore all open windows and your desktop with them
symbols. Use Alt + Tab to quickly switch between open applications.
Icon packages:
►►  Quickly deactivate Windows hotkeys or assign them to another hotkey?




You can download and install icon packs to change the appearance of system icons, folders and shortcuts. Various websites offer icon packs compatible with Windows.
Remember that while customizing icons can be fun and helpful, it is important to maintain an organized desktop to improve productivity and usability.





FAQ 75: Updated on: 7 October 2023 14:41