There are practical keyboard combinations in Internet Explorer that are easy to use, here are the most important keyboard shortcuts!
Foreword to Internet Explorer!

Navigation in Microsoft Internet Explorer can be simplified by using the existing keyboard commands. It is also important that you work with the latest Microsoft Internet Explorer, currently Internet Explorer 11 is still doing a good job.
   
The keyboard shortcuts / keyboard commands in Internet Explorer!
• [CTRL] + [T] 
New tab / tab open the popular tabbed browsing

• [CTRL] + [B]
Open the IE Manage Favorites dialog box 


• [CTRL] + [E]
The address bar can be used as a search bar, with this you can enter search terms using the IE standard search engine (s) and search the Internet directly 
• [CTRL] + [F]
start the
"Find"
utility , or rather, search for text on the current page with highlighting of the text you are looking for (
... see Image-2
) 
• [CTRL] + [H]
open the "History" bar) 
• [CTRL] + [I]
Open the "Favorites" bar 
• [CTRL] + [L]
Open dialog box! As of Internet Explorer 11, the address bar is focused and a new Internet address can be entered directly without having to select it with the mouse. 
• [CTRL] + [N]
Open another browser instance with the same web address, or rather, a new full Internet Explorer window  
• [Ctrl] + [O]
Open dialog box to the Internet to open addresses, but also [Ctrl] + [L] possible
• [CTRL] + [P]
The Print dialog box is opened. Tip, if you select a text on the page, you can optionally only print this in order not to waste paper and print the advertising messages. 
• [CTRL] + [R] You can also simply 
update the current website with the [F5] key. 
• [CTRL] + [W]
Close current window, if several tabs are open, the current tab is closed.
(Image-3) Search for in Internet Explorer!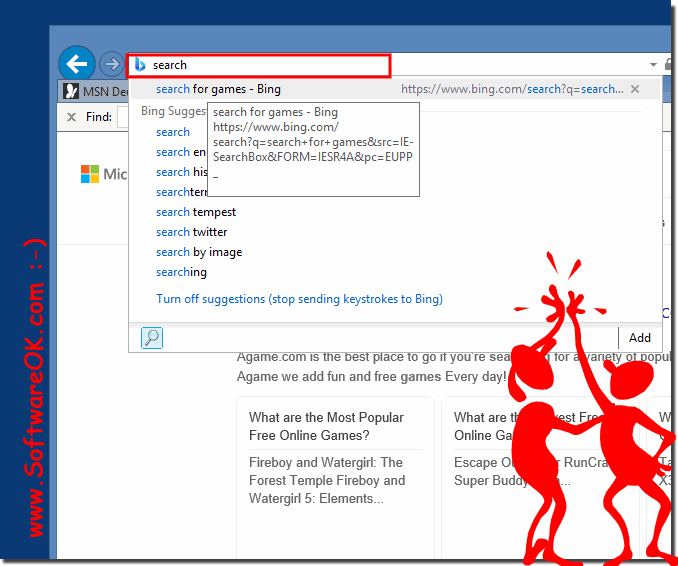 Direct search via the address bar with different search engines, a good function in Internet Explorer! 

(Image-2) Search for text keyboard shortcuts in Internet Explorer!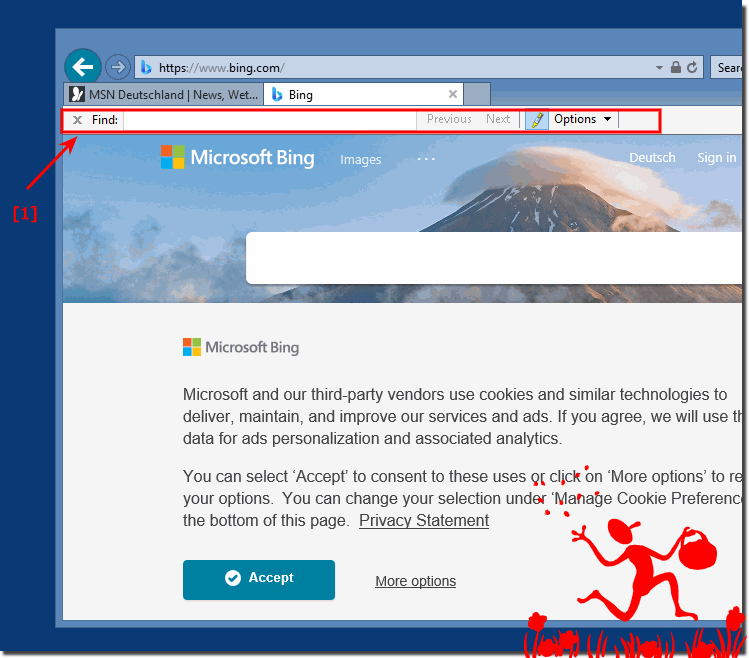 Quite a useful function in Internet Explorer when looking for a specific term on the Internet. 

FAQ 64: Updated on: 21 September 2021 17:58