The solution is very simple to find the documents on any Windows or to open the standard folder! 
1.) Windows documents folder open all OS!
The quickest way to start the Microsoft File Explorer is to use the Windows logo + E  key combination and enter in the address bar: 

shell:profile

 and confirm with ENTER. It is 

even easier to  open the documents with the Windows + R key combination , via Run Windows dialog, with this you can also quickly find the documents or open the folder path (directory).  

Don't be surprised, the picture was taken under Windows 10, but the documents can be opened or found under any Windows with this solution.




(Image-1) My Windows documents!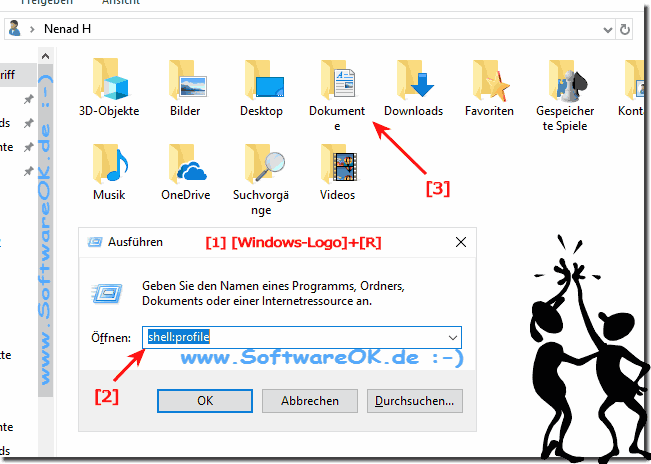 2.) Find and open documents from other users! 

To open documents from other users on the Windows computer, simply use the command line  shell: UserProfiles  and open the folder of the Windows user concerned and also click on the documents folder ( double-click ) to be able to view all documents of the respective user.  ( ... see Image-2 Point 1 to 3 )




(Image-2) Foreign Windows documents!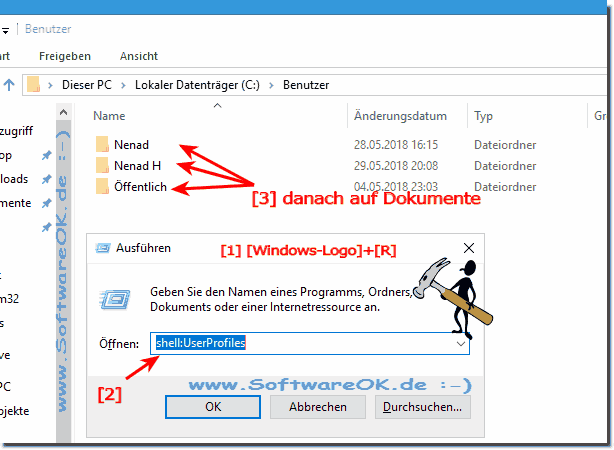 Why are these folders important?
Documents folders help you keep your files organized and separated. If there are no folders on your Windows computer, Linux, or Apple's MAC, it will be difficult to keep things tidy. If your documents and programs, as well as
operating system
files, were all in the same place, the folder would be huge and you wouldn't be able to find or open anything in a hurry. You can also use more than one file with the same file name in folders if they have different
file extensions
. When all files are in a single location, each file needs a unique filename.
This example is documents folder is suitable for Windows 11, 10 Pro, Enterprise, Home, Windows 8.1, Windows 8, Windows-Server 2019, 2016, 2012 and older operating systems!
FAQ 61: Updated on: 21 September 2021 17:57