When creating a subfolder, many people ask- what is the difference between a directory and a folder!


What happens if I create a folder where a directory would have to be created. 


 

Content:


1.) The directory and the folder!
But you can't go wrong here, because a directory and a folder are the same thing. The Windows folder on the C: drive of Windows is the same as C: \ Windows in Linux, or MAC-PC. So there really is no difference between the two other than the names.
Example for folder or directory printout in Windows with the DirPrintOK program !
PS:
The folder path is for example:
"C:\Folder_1\Folder"
The folder name would be
"My Folder"
So the full path from the folder 
"My Folder" is
"C: \Folder_1\Folder\My Folder"
(Image-1) Printer and the page setup for folder print!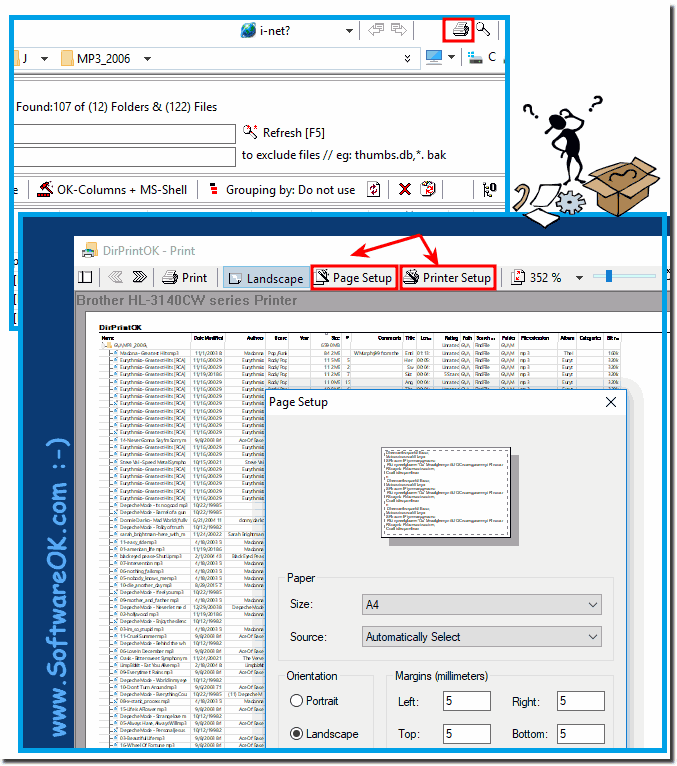 2.) Technical considerations for directories and folders!

In computer science, the term directory refers to a list of files and folders. A folder is a graphical representation of a directory.

Technically, a directory is a container that can contain files and other directories. It is an abstract structure stored in the computer's file system.


Directory:
This term comes from the Unix and DOS era and is often used in the command line and programming environment.
In Unix-based operating systems such as Linux, directories in the file system are called "directories."
In the context of programming and command-line commands, "directory" can be a more general term for the path to a folder or file.
Folder:
This term is more common in the user interface of operating systems such as Windows and macOS.
A "folder" is a visual concept and refers to the graphical representation of directories in File Explorer or on the desktop.
In everyday conversations and user interfaces, the term "folder" is often used as an equivalent to a directory.

Essentially, both terms mean the same thing – they refer to a method of organizing files in a hierarchical system. Whether you use "Directory" or "Folder" depends on your operating system and your personal preferences. Today, most people are probably more familiar with the term "folder" as it is used in popular operating systems such as Windows and macOS, while "directory" is more common in more technical or text-based environments.


FAQ 54: Updated on: 24 October 2023 18:32