The Windows desktop is the number 1 reference point on every Windows operating system!



 

Content:

1.) Quickly get to the Windows desktop!

The desktop keyboard shortcut is the quickest way to get to the desktop.
Press [Windows logo key] + [D] to go to the Windows desktop. Press the same buttons again to restore the hidden windows.


Press  [Windows logo key] + [M]  to minimize all open programs. To undo all minimized windows, press   [Windows logo key] + [Shift] + [M]  .
Optionally, you can also quickly show and hide the desktop in the right area of ​​the Windows taskbar.
(Image-1) Quickly to the Windows desktop!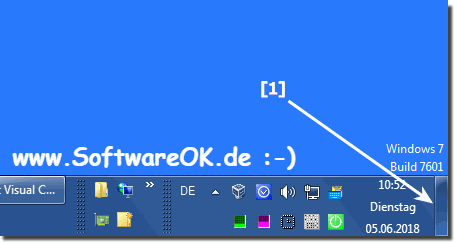 When Windows first starts, it loads onto the desktop. However, when you open files and programs on the computer, it disappears. Fortunately, there are several ways you can get back to the desktop without closing any of your open programs.  With a right click on the taskbar (free area, or taskbar clock) you will find further windows and other options as well as the possibility to bring the desktop quickly to the foreground.    

(Image-2) Windows desktop and window options!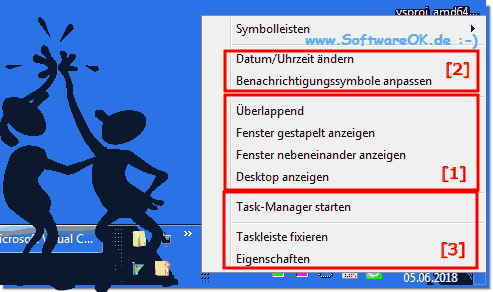 Minimizing all open windows under Windows!
If you have the time, you can of course minimize all open windows individually to get to the desktop. If you only have one or two windows open, minimizing the window may not be time consuming and may be a quicker solution. However, if you have multiple windows open, it is more practical to use the suggestions above, this is for --- OS_Windows6 ---.

2.) Windows desktop interface advantages and disadvantages!

Pros:

Ease of Use: The Windows desktop interface is relatively easy to learn and use. Most features are intuitive and easy to find.
Compatibility: Windows is the most widely used operating system in the world and is therefore compatible with a wide range of hardware and software.
Performance: Windows is a relatively powerful operating system that is suitable for a wide range of tasks.

Cons:

Security: Windows is a popular target for cyberattacks. Therefore, it is important to keep the operating system and installed applications up to date.
Customizability: The Windows desktop interface is not as customizable as other operating systems such as Linux or macOS.
Costs: Windows is not free but must be licensed.

Summary:

The Windows Desktop Interface is a good choice for users looking for a simple and compatible operating system. However, it is not the best choice for users who require a high level of security, customization, or cost-effectiveness.

More Details:

Ease of Use: The Windows desktop interface consists of a number of elements that are intuitive to most users. This includes the taskbar, the start menu, the desktop and the icons for programs and files.

Compatibility: Windows is compatible with a wide range of hardware and software. This makes it a good choice for users who want to use a wide range of devices and applications.

Performance: Windows is a relatively powerful operating system that is suitable for a wide range of tasks. This includes using Office applications, surfing the Internet, playing games and editing videos.

Security: Windows is a popular target for cyberattacks. Therefore, it is important to keep the operating system and installed applications up to date. Windows offers a number of security features, including a firewall, antivirus and virus protection program.

Customizability: The Windows desktop interface is not as customizable as other operating systems such as Linux or macOS. Users can customize the taskbar and desktop, but they cannot change the basic interface elements.

Costs: Windows is not free but must be licensed. The cost of a Windows license varies depending on the version and edition of the operating system.



FAQ 52: Updated on: 2 November 2023 21:25