If you buy an external USB-3 hard drive and it is not faster than USB-2, then you should check the following!


Content:


1.) The most common cause is too little power for USB 3.0! 
If it is an external adapter USB-3 to SATA, or IDE, it should have two connections, one for the USB3 connection and an additional one to get enough power for USB-3! ( ... see Image-1 )

It does not matter whether it is connected to Windows 10 or 8.1, if the power supply is insufficient, USB-3 works the same as USB-2.

There are fewer problems with SSD because the power consumption is lower, but here too there can be a 20% to 30% loss of speed. You will then not achieve the full data transfer rate that USB-3 can normally provide. 





(Image-1) USB-3 at full speed!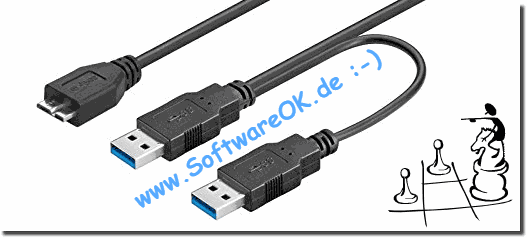 Help my USB 3 is too slow!


This speed dependency not only causes confusion among Microsoft Windows PC users, but also with Samsung smartphones, Apple Macs and Linux users.
If the power supply is sufficient, it will also work with full data transfer under USB3.


2.) Further possibilities and causes for too slow USB 3.0!
The correct power supply for USB 3.0, USB 3.1 and USB 2.0 is important 
For this: ►► 
My external USB hard drive doesn't work on the USB HUB, why?
If a USB stick is declared with 3.0, it does not mean that it can reach the full 300 MB per second! Only external SSD hard drives can do this!
The virus scanner slows down the access, this can be avoided or turned off!
To do this: ►► 
Exclude external drive from Defender Virus Scan!  
3.) What is USB anyway?
Abbreviation for Universal Serial Bus (German: Universal Serial Bus), USB is a plug-and-play interface that enables a computer to communicate with peripheral devices and other devices.
FAQ 45: Updated on: 24 November 2020 11:25