The Alt-Gr key is not on every keyboard, many newer keyboards do not have an
"Alt Gr" key

on the keyboard!




 

Content:

1.) The Alt-Gr for one key!
If available, the Alt Gr key is located in the right area of ​​the keyboard next to the Windows key or the corresponding operating system. 


( ... see Image 1 point 1 )

PS: You may optionally use the onscreen keyboard to the Alt key to use
  






(Image-1) The Alt Gr key on the keyboard!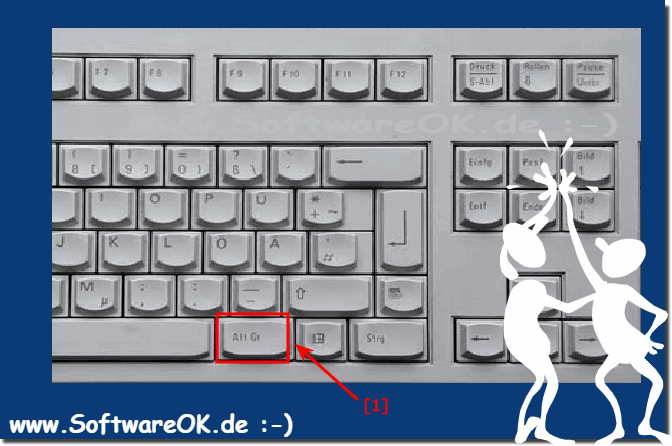 2.) Further information about the Alt-Gr key!
The Alt-Gr key, also known as the "right Alt key" or "Alt Graph key", is a key on the keyboard of many computers, particularly keyboards used in countries with many special characters and accents . The term "Alt-Gr" stands for "Alternate Graphic," because its primary purpose is to enter additional characters and symbols that are not present in other keyboard layouts.

If you hold down the Alt-Gr key while pressing another key on the keyboard, different special characters, accents, and symbols will appear, depending on your keyboard layout and operating system. This is particularly useful in countries where the keyboard layout contains many diacritics and special characters, such as the Euro sign (€), the "@" symbol, curly brackets ({}, []), accents (á, é , í, ó, ú), and more.

The exact placement of the Alt-Gr key on your keyboard can vary depending on the manufacturer and model, but it is usually to the right of the space bar or next to the right Alt key. In some countries this button is also called "Alt-Car".

FAQ 151: Updated on: 28 October 2023 15:56