It is very easy to find the up or down keys on the Windows keyboard!
Content:
1.) Up or down keys under Windows!
The up or down keys, also known as the arrow keys, or cursor movement keys, are keys on a computer keyboard that allow the cursor to be moved in a specific direction.
The so-called arrow keys are usually located on the bottom of the keyboard on the left side (
... see Image-1
), or on the numeric keyboard. The up, down or arrow keys are often used to navigate documents and also by some gamers to play games. 
(Image-1) Up or down key under Windows!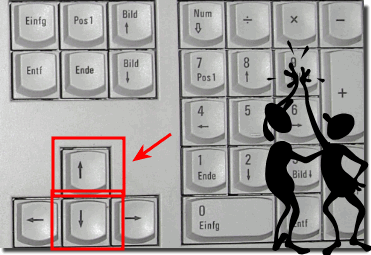 2.) Further information about up and down keys under Windows!

The up and down keys on a Windows keyboard are very popular and are typically used to navigate within lists, documents, and other content.

Use: 
Scrolling: In most applications, you can use the up key to scroll up and the down key to scroll down. This applies, for example, to web pages, documents, tables and folder views in Windows Explorer or Quad Explorer .

Selection: When navigating a list of items or files, you can use the up key to move up an item and the down button to move down an item.




Menus: In menus and drop-down lists, you can use the up key to browse options up and the down key to browse options down. The Enter key is typically used to confirm a selected option.




Text input: In word processors and text boxes on web pages, the up and down keys can be used to move the cursor up and down within the text, respectively.




However, there are also special key combinations where the up and down keys can be used in combination with other keys to perform certain functions. These keyboard shortcuts may vary depending on the application and operating system.







FAQ 110: Updated on: 23 September 2023 21:27