A handy and effective Windows extension, the tool especially for your mouse that allows you to easily switch between multiple windows!
Some users are used to having only two buttons - left and right.


But if you install additional software, it turns out that there is also a mouse wheel.

In the basic version of the Windows operating system, you can not assign functions to it or perform any additional actions.

But now you have the opportunity to expand with the help of such a small software.

As a rule, all users of the PC use the mouse.

Even if a touchpad or other input device is present, a mouse can not be dispensed with.

And what do you say, if you can significantly revolutionize the capabilities of your PC with a single small program for Windows.    

You can also use the user interface to enable an option that allows you to enable or disable the application, and whether or not to start the program when Windows starts.

When you click the Close button, AlwaysMouseWheel is minimized to the taskbar menu and remains inactive until the next time it is used. However, you can set the application to always start minimized and work in the background.

In any case, AlwaysMouseWheel is a handy and very useful tool for all Windows operating systems when it comes to working with different windows and easily switching between them.




(Image-1) Horizontal scrolling with always mouse wheel, how to?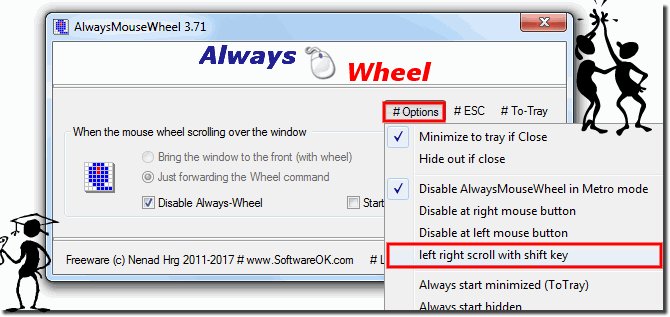 The main windows displays two basic options that allow you to bring the window to the foreground with the mouse wheel. It may not cover your needs, but it is an useful program if you have a lot of work to do, such as switching windows and actively using the mouse wheel. 

And the situation is changing radically for you, the experience of using this little tool-for example, in Microsoft's Word, for example, you can scroll even more conveniently, and in other utilities you get many more benefits.



 

Info:

From Win 10 1803 you do not need AlwaysMouseWheel, because MS copied me!

is inherently inside, except the foreground bring function or the horizontal scrolling!

 

 



FAQ 6: Updated on: 5 July 2021 17:46