The full Unicode character set in Quad Explorer for MS Windows 11, 10, ... etc. OS is very important when managing the data!

Windows itself works on the Unicode character set , many users use old file explorers and Norton Commander clones that do not have full Unicode character set support, this can lead to data loss and incorrect interpretation of folders, files, documents, ... etc!


Content:
1.) An example of incorrect and correct full Unicode support!
Here you can see an example in the ►
current Quad Explorer Q-Dir for MS Windows OS
 and an incorrect display in a file commander without Unicode support!
1. Correct display in Q-Dir
2. Incorrect display in a Norton Commander clone
(
... see Image-1 Point 1 and 2
)
(Image-1) Full Unicode character set in Quad Explorer for MS Windows OS!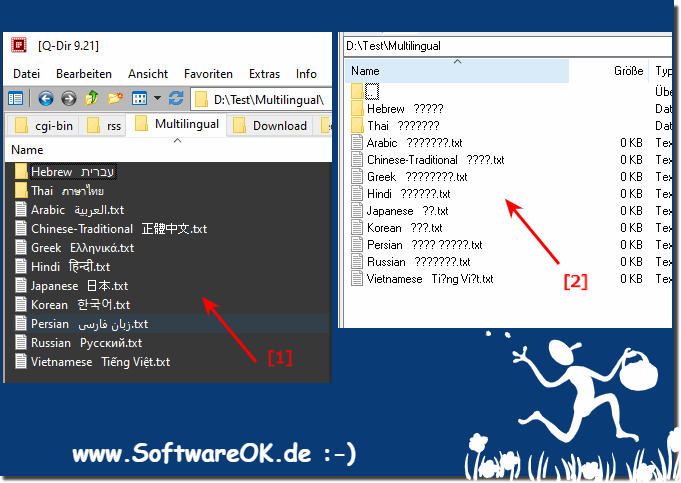 2.) Why so much fuss about Unicode support, I'm not Chinese!
This is above under point 1 is an extreme example, but there are also other characters that can lead to incorrect moving and deletion of files without Unicode support, in the worst case even to system crashes! 
PS:
It also makes sense under x64 ► 
to download
 and use
Q-Dir x64
, x64 programs from me always have 
full Unicode support
. 
3.) More tips on Unicode support and possible errors!
Errors can also occur with the Windows command prompt or other console programs, as with all older programs that are not further developed and maintained!
Unicode is a fact that should be taken into account!   
(Image-2) The Unicode character set under MS Windows OS!