There are many duplicates of the same data, especially when it comes to images on Windows 10, 8.1 and more 
7! 
For this reason, the
Find.Same.Images.OK
program 
can
prove
its
worth. Especially if you download the same image from the Internet, it can happen that you uploaded or recorded it yourself a few years ago without knowing it.


Find duplicate pictures easily!
You can start the image scan at any time by clicking the Start button.
After the scan, a list of all images that are identical or similar is displayed.
Click on the double image you want and it will appear at the top of both preview windows.
The preview window shows both versions of an image.
In the middle you can see the percentage in which the photos fit together. 

Easily remove duplicate pictures!

You can click the Explorer button above the image preview by clicking on it and the image file will be selected automatically in MS Explorer !, or "Open in Explorer" if you activate and hold the list view by clicking the context menu "List view" the "Explorer" or "Delete" button. 
(Image-1) For what the flipped and rotated image search?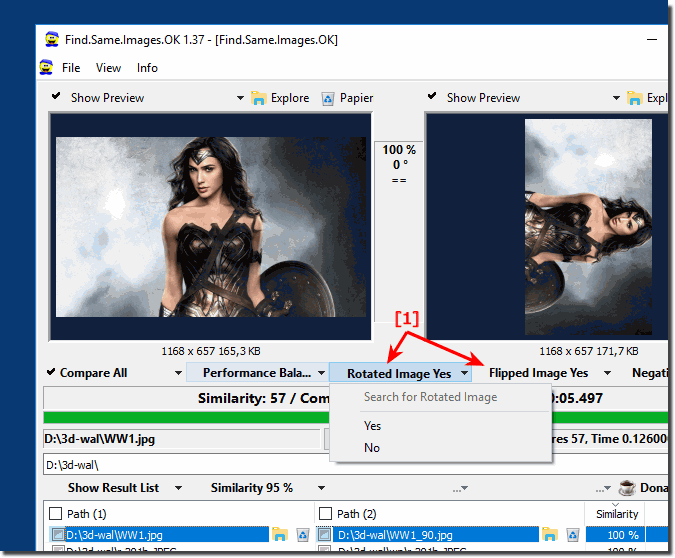 Info:
It is really very useful and advantageous to use this tool (
Find.Same.Images.OK
) for duplicate photos under Windows, it is a simple, yet effective tool with this function to quickly find, mark and duplicate photos to delete.
It can be used regardless of whether it is on the new Windows 10 OS or one of the other operating systems, it has been tested and successfully verified on all
.
If you want to search, find and remove duplicate images, it does not matter whether it is on a Windows desktop PC, or whether the image search takes place on the go on a tablet, MS Surface Pro / Go, or even on an MS Server operating system.