It is easy to start the file explorer search with and without subfolders in Windows 11!
Contents:
1.) File Explorer Search with and without sub-folders!
1. Open the one that is to be searched.
2. Start the search in Windows 11 with F3 and enter the search term. 
Important!: The search options only appear after the search has started! 
3. Now you can decide whether you want to search with and without sub- folders in the File Explorer
(
... see Image-1 Point 1 to 4
)
The search then only shows your file names in the current folder, if you only select the current folder, the search result in the file explorer is then different.
(Image-1) File Explorer search with and without subfolders in Windows 11!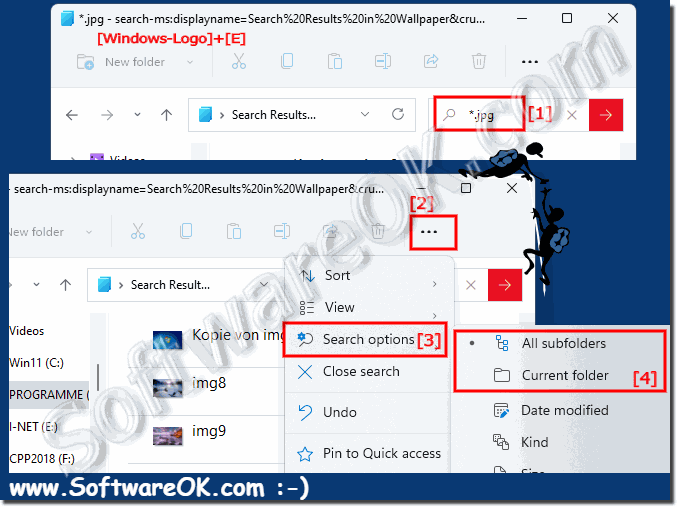 2.) Can I use the old file search on Windows 11? 
Yes, for this you have to activate the classic Explorer under Windows 11, then it is identical to Windows 10, 8.1, ....
Described here: ►► 
Use the old File Explorer under Windows 11?
After that you can use the classic search bar, why not when it's so easy!
(
... see Image-2 Point 1
) 
(Image-2) File Explorer Old search in Windows 11!

3.) More information about searching under Windows 11!
In the search options you can also use other search criteria Type, size, modification date, file content, ...! 
With the search field in the file explorer you can find all your files and folders in one place and indicate whether the search should be carried out in all subdirectories is also a freely adjustable option. Windows 11 searches all file types (documents, pictures, music, websites) as well as bookmarks and program shortcuts on your desktop. 
(Image-3) File Explorer search options in Windows 11!