If you try to activate the old taskbar you fail under Windows 11, this was possible in the first Windows 11 test versions!
1.) The new Windows 11 taskbar!
Not much is currently possible in the Windows 11 taskbar, hardly any individual adjustments!
See also: 
Date and time in the system tray!
 ►
System tray icons disappear.
 ► 
Information area icons
(Image-1) Windows 11 without the old taskbar!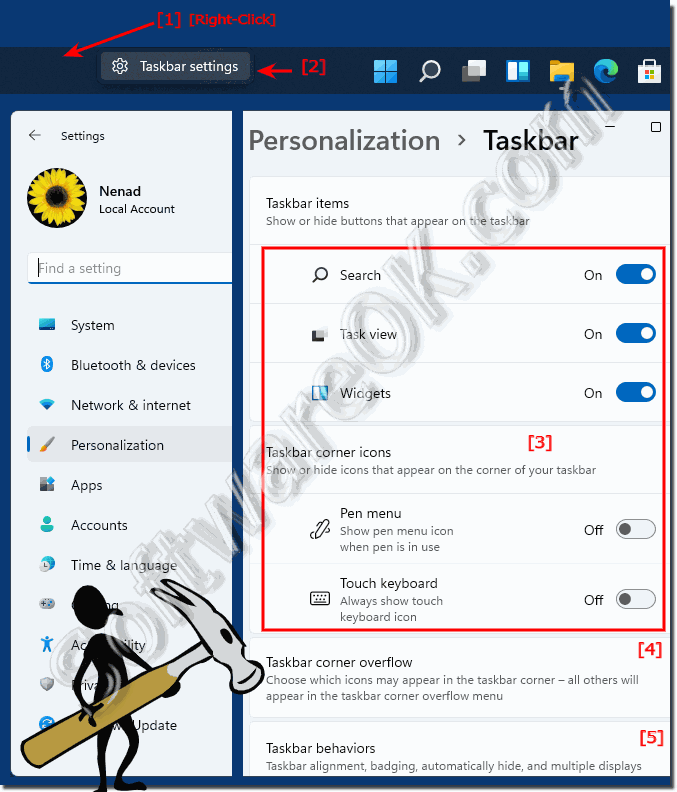 2.) How to hide the taskbar under Windows 11!
In Windows 11, the taskbar takes up a small part of the screen. Fortunately, reclaiming that space is easy by configuring the system tray to automatically hide!
You can open the Windows 11 settings and navigate to Personalization ► Taskbar to do the same as via the configuration taskbar menu!
1. Open Taskbar Settings 

2. Scroll on the right side, click in the Taskbar Settings on "Taskbar Behavior" .
3. Activate the checkbox next to
"Automatically hide the taskbar"
(
... see Image-2 Point 1 to 5
) 
PS:


As soon as you check the box, the taskbar will disappear. But if you look very closely, you can still see a small thin line at the bottom of the Windows 11 screen, from which you can see that it can be displayed immediately as soon as you move the mouse over it or press the Windows logo key !


(Image-2) Windows 11 automatically hide the new taskbar!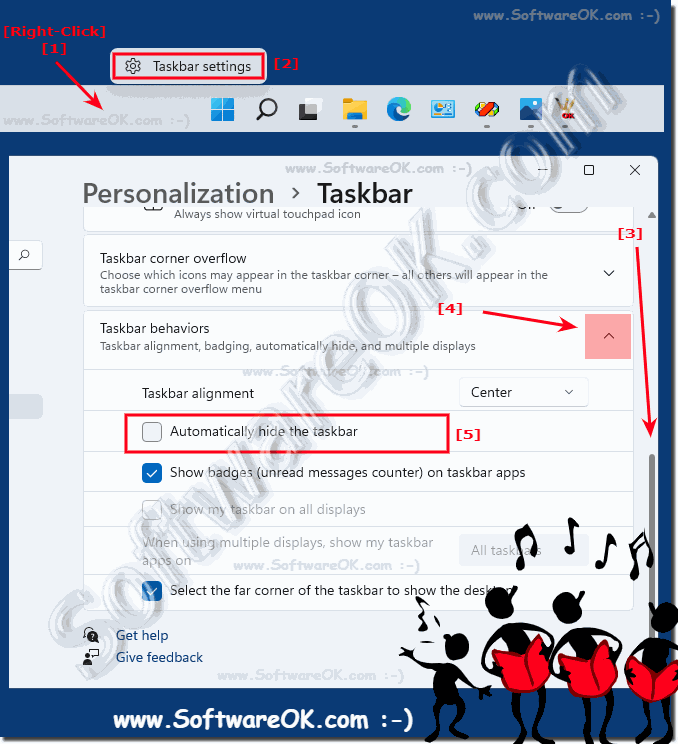 3.) ... why is the taskbar so tight on Windows 11?   
Windows 11 is an improvement on the unknown ►► 
MS OS Windows 10X
, which Microsoft developed for another special type of hardware with two screens. The taskbar and start menu have been redesigned to make them a lot simpler.
But now Microsoft has given up the dual-screen concept, and it adapted Windows 10X to simple desktop devices and transferred some of the Windows 10X interface elements, such as the new start menu and a new, super simple taskbar to Windows 11.
4.) ... Force the old taskbar with external tools!
You can force this with external tools, how long MS will allow it is questionable, but it currently works, but it's something for advanced users!
1. Download: ►► 
https://github.com/valinet/ExplorerPatcher/releases
2. Install 
3. Then align the Windows 11 start menu to the left
Very experimental (
... see Image-3 point 1 and 2
) 
(Image-3) On Windows 11 old taskbar!