The solution is quite easy to adjust the cursor width for Office and other text editors and processing programs / APPs under Windows 10!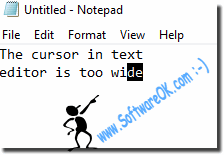 With too wide, or narrow Win-10/11 cursor, one is able with little effort also / and as normal Windows 10/11 users without
system administrator rights
to adjust the cursor in width!
Content / Solution / Tip:
Tip: ► 
 Hold the mouse speed function!

1.) Adjust the Windows 10/11 cursor width!
Simply enter the shortcut 
Windows logo + I
 and
cursor
and adjust the cursor width in the cursor settings!
(
... see picture-1 item 1 to 3
)
Now simply change the width of the text cursor individually: (
... see picture-2
)  
In Windows 10/11, the update has probably also changed some system settings, which are automatic also adjusted the cursor. The cursor settings and some others are dependent on the Windows 10 version in Windows. 
(Image-1) Windows 10: customize the cursor size in text editors if is it too!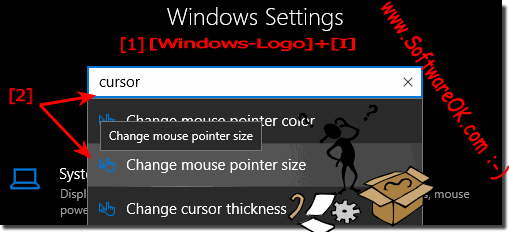 (Image-2) Windows-10: make the cursor in editors narrower!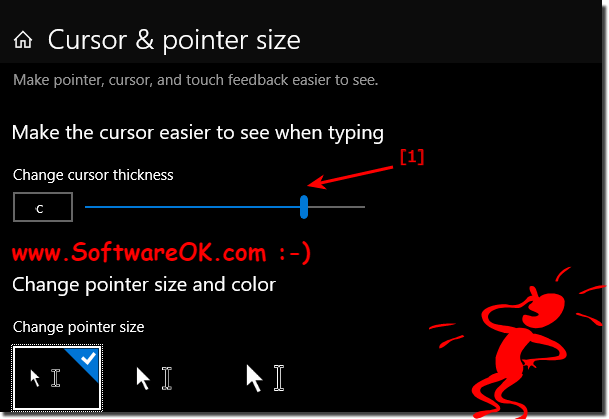 2.) Why does the cursor width change under Win-10/11?
After a major Windows 10 update, such as the October 2018 update, it may happen that some things and system settings are changed or reset. But as described above, this is not a problem with a few simple steps, the cursor is again how you need in. 

3.) Adjust the cursor width in the control panel!
1.
Start the Windows 10/11 Control Panel as usual
2. Press the F3 key and enter "Center"
3.
Open the Ease of Access Center
4. And scroll to the "Easily Detect Screen Objects" item
5. Now go to "Detection of elements on screen make it easier to scroll "
6. and simply reduce or widen the cursor width
(
... see Image-3 Point 1 to 7
)
The cursor width adjustment under Windows 10 is very simple and flexible, as you can see Cursor width can be individually adjusted at any time under Windows!
(Image-3) Adjust the cursor for text editors in Windows!

4.) ... Tips and information about Microsoft Windows cursors / pointers and Co.!

Mouse pointers and cursors are settings that are rarely addressed in Windows, although sometimes the settings are overridden with major system updates. But as with all Microsoft Windows 11, 10, ... desktop and/or MS Server operating systems, it's not always that easy to find different settings to get the pointer and cursor under control, so it's even more important when you have them knows options. Here you will find further links and tips on the topic that could help you!