With many drives in File Explorer, a separate drive icon can be quite helpful under MS Windows 11, 10, 8.1, ...!
Just change the drive icon and name and without Windows Registry Editor, optional to
the standard solution for drive letters
!
Content:
1.) Your own drive icon in Explorer!
Not only practical, but also beautiful and individual can be your own drive / hard drive icon in File Explorer!
(
... see image-1 point 1
)
(Image-3) Show your own drive icon in the Windows Explorer!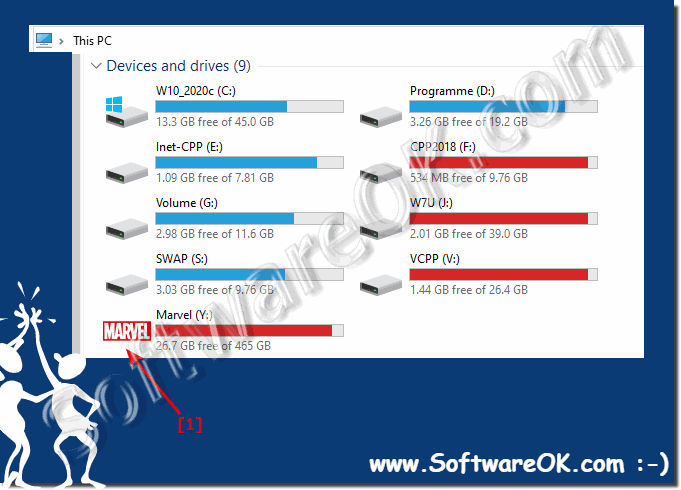 2.) Adjust the symbol for the drive yourself in Windows 11, 10, ...! 
1. Start Windows File Explorer
2. Open the path of the drive 
3. Right-click on "New" in the drive and click on "Text Document".
4. Rename the file to "autorun.inf" and press Enter.
5. Copy your icon on the drive
6. In the "autorun.inf" create the [autorun] icon and the
drive name
7. Immediately appears your custom icon in the file explorer
(
... see picture 2 point 1 to 4
)
(Image-2) The changing hard drive icon in Windows 10, 8.1, ...!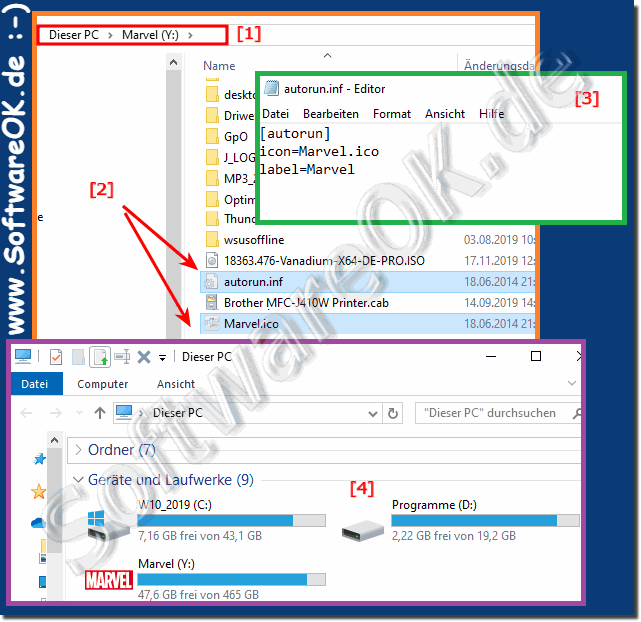 3.) What should I watch out for when changing the drive symbol in Windows 11, 10, ...!
If your system
does not show files in extension
, you need to open the File tab in Explorer and click the File name extensions option to properly rename the text file to autorun.inf. Otherwise, after renaming the file, you will receive the autorun.inf.txt file, which is incorrect. It can also be helpful to temporarily display the hidden system files
►►
... Show  extensions
 ►►
... Show hidden files
You have probably tested many methods and noticed that these methods are not suitable for use and that the symbol changes because the customization was made via the registry, the symbol assigned to a drive letter changes anyway. For this reason, you have the opportunity to achieve the desired result with removable media and external hard drives. This is especially true if you are using multiple external drives and the
drive letters change frequently
.