The solution to find file, document, folders by owner on Windows 11, 10, 8.1, ... and Microsoft Server OS!
Windows:
file search by type, age and size
of files is easy. The Windows Search feature will help
you find any files that are of a specific type, in a size range
, or last modified within a definable period of time. this example show you how to
"search for files by owner on all new MS Windows OS",
use this example also independent of whether you search at a home Windows desktop computer, mobile on tablet PC, Surface Pro / Go,or even as an administrator deploy in a server room at the MS server operating system. 
Search for files by owner on all new MS Windows OS!
1. Start the MS File explorer  
2. Navigate to search location
3. use F3 and Enter "owner:admin" (for example)
4. And see all admin files 
(
... see Image-1 Point 1 and 2
)
Is easy ;-)
(Image-1) Find file by owner in Windows 10, 8.1, 7!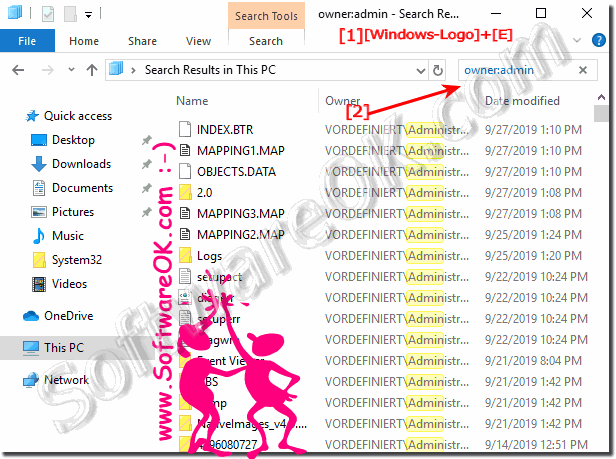 Info:

While the search function of XP was still largely unusable, Microsoft is frightened by Google Desktop Search in Windows 7, a significantly improved search engine. Windows Search 4.0 can also be installed on older versions of Windows. It offers much more than just the input field for search terms. Many little-known features help track information faster and transfer work habits from the Web to Windows. Compared to XP, it is noticeable in Windows 7 that the search field has a prominent position in the start menu and also in every folder next to the address bar. This integration with the desktop makes them available everywhere. The search in the start menu is particularly suitable for executing a program. Instead of searching for the corresponding icon under "All Programs", you can type in the initial letters of the application and start them directly from the results list.