Sometimes you need to change Windows 11/10 Quick View, better known as a file preview, to see information about the file and sometimes the preview!
In each Windows Explorer File Explorer window, you can use small buttons ergo switch buttons in the lower-right corner between the detail view mode and the thumbnail view mode. Detail View mode is especially useful if you want to filter the contents of a folder.
(
... see Image-1
)
(Image-1) Quick view and preview in Windows 10!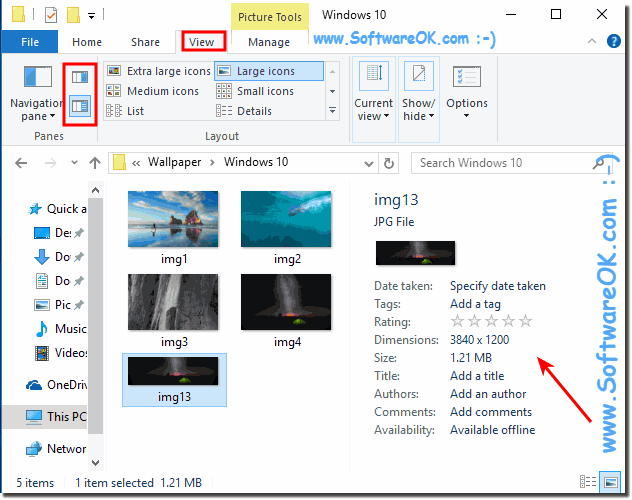 The quick access options are always displayed at the top of the Explorer navigation bar. The purpose is to give you quick access to frequently used files and folders.
As mentioned earlier, you can not customize the Ribbon, but you can optionally place the Quick Access Toolbar. By default, the title bar appears above the ribbon. If you want to move it down, click the down arrow to the right of it and then click the Show Down arrow button. There's a new option in this new location, so you can see it over the tape over and over again. (
... see Image-2
)
(Image-2) Expand the Ribbon in Windows-10!


The same menu contains a short list of the most commonly used commands that can always be added for quick access. To add the commands available in the Ribbon but not in this menu, right-click on the desired command and select Add to the Quick Access Toolbar from the pop-up menu. (
... see Image-3
)
(Image-3) Quick fast access in Ms-Explorer!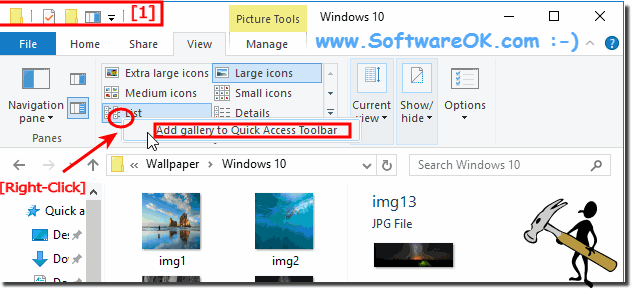 And one of the little known secrets of Ribbon Configuration. You can add groups of commands to the shortcut bar. For example, click the View tab, right-click the shortcut you want at the bottom of the Groups group, and choose Add to Quick Access Toolbar. Now that you click on this link, you can select the view of the Explorer window.
(Image-4) Fast access to View-Settings in File-Explorer!


The quick access option is an useful extension to the file explorer. The organization of files in different places. Once you've identified these locations, you can add shortcuts to them at the quick access point and just open what you need. 
See also: 
► 
So many folders in the directory tree of Windows-10 Explorer, why
 ? 
► 
Can the folders in the Windows-10 Explorer be expanded automatically
 ? 
► 
File Explorer Folder Options on Windows 10
 ?