This manual explains how you can restore the location of the default user profile folder on Windows 11/10!
You can move folders from the profile folder of your account to other drives. For example, the Desktop or My Pictures folder requires a lot of disk space, and you can move it to another disk to increase the free space on the Windows-10 system disk . ► Change the path of Personal Documents on Windows 10! 
But if you want to restore one of personal folders to the default location! 
Please open the explorer and paste into the address bar shell:UsersFilesFolder and then press the Enter key.

Here you will see all the folders of the profile, click on the folder that you want to return to the default location with the right mouse button and select "Properties". (... see Image-1) and (... see Image-2)


(Image-1) Restore User Folder to Default!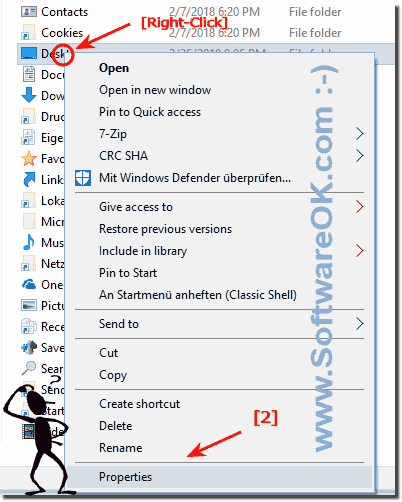 Restore default folder location in example Windows 10 Desktop!
(Image-2) Restore the location of the Windows-10 Desktop folder!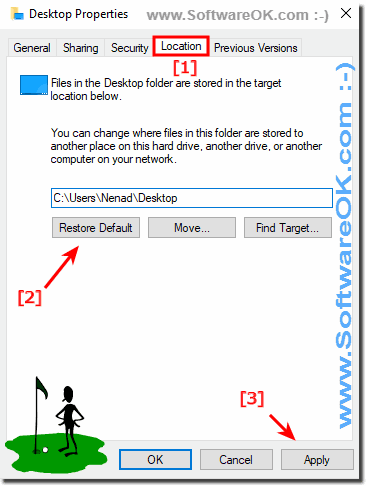 This folder is intended for quick access to those working documents, which you have to deal with most often. The folder can be renamed or completely removed from the desktop, but you can not delete it.

The My Documents folder contains My Music, My Pictures, My Videos, My Data Sources, Received Files folders.

From the Other places group, you can access the Shared Documents folder, the resources of which are shared. The Shared Documents folder, as well as the Guest Documents folder, can be found in the My Computer folder window. If the files from the My Documents folder or from the folders attached to it are to made be public, copy or move them from the current location to the Shared Documents folder or to subfolders in Documents folder.