Simple Search queries

in Microsoft file explorer on new Windows-11/10, in example search for files with file extension, anyone can do it!
1.) Search for files with a file extension on Windows 10 and 11!
If you want for example search for
*.txt
files on C:\ Drive  of Windows 
The search query example: 
*.txt kind:=document
(Image-1) Search query for Text File!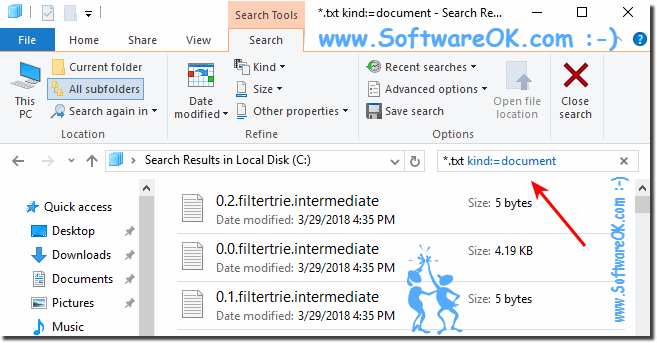 To ensure the fastest possible search in the file system, Windows 10 offers an indexing function. It scans the contents of the disk in the background and saves the file names in a special database. When the user performs a search query, the address is no longer on the disk, but in the generated database, so that the results are displayed almost immediately. ►► 
... Turn off windows 10 search indexing service (customize, disable)?

2.) Search for files with two different file extensions on Windows 10 and 11!
If you want for example search in Windows-10 for 
*.txt
 files and
*.jpeg
 images on C:\ Drive 
*.jpg OR *.txt
(Image-2) Search query windows-10 images and documents!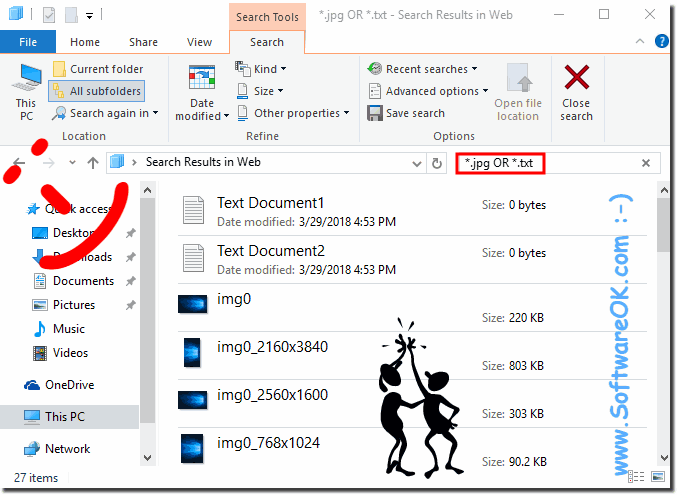 The method described here can be used as an alternative to automatic history search stores, are also available on the Explorer tape, and even search files-ms can be transferred to another computer (including other versions of Windows) a search on the disk perform. They can be started from any folder. 
See also: ► 
Print or export search result data list from Explorer in Windows 10
!

3.) Search query customize on Windows 10 and 11!
In Windows 10 search capabilities are much broader. In order to find a document containing a specific word, or a phrase, just type what you are looking for in the search field of the corresponding folder in the explorer. In the search bar, which opens after entering a search query, you can specify search conditions for any file attributes and tags available.
In Windows 11: ►►►►
Use the old File Explorer on Windows 11?
(Image-3) Search query customize in Windows-10!