The solution is simple to find Thumbnail Cache in Windows 11/10 , for example to see the
Thumbnail Cache file size of Windows 11/10

!

For this at first, please start the Windows 10/11 MS-Explorer, fastest way is the

Windows-Logo+E

keyboard shortcut.

And now to open the Thumbnail Cache directly use the command in MS explorer Address-Bar:  

%LocalAppData%\Microsoft\Windows\Explorer 

The Second solution to open the Thumbnail Cache is in example via keyboard shortcut

Windows+R

and enter in Windows 10/11 Run Dialog the command same command.  (

... see Image-1 Point 1 to 4

)

You can Delete the files via ►► 

... This is my File for Windows

!

See also:

►

Thumbnail Previews in File Explorer on Windows 10/11, turn off on?

► 

Disable preview in the Taskbar of Windows 10/11, how to?

(Image-1) Delete the Thumbnail Cache in Windows-10/11!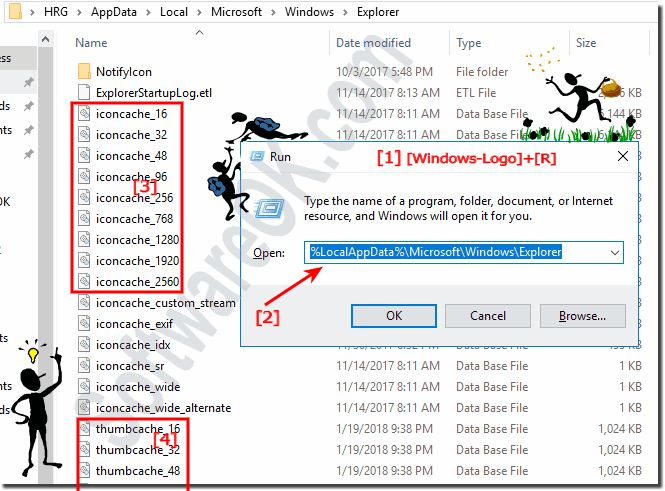 Thumbnail Cache in Windows 10/11 Info!
I
n the Windows 10 operating system, the system stores copies of thumbnail images of all video files and documents for quick display. Explorer can display small thumbnails for files stored on your disk. To speed up this process, you use a hidden cache file located in the user profile directory. Thanks to cache sketches, explorer reuses the thumbnails from the cache, showing them instantly. If the cached file is corrupted, Explorer starts showing corrupted or inappropriate thumbnails of your files. In icon, tile, and content mode, Windows 10 Explorer shows thumbnails of video files and images stored on disk. To speed up the process of loading thumbnails, explorer loads them from special cache files stored in one of the hidden user profile directories. In the latest versions of Windows 10, this cache can be cleared spontaneously when you restart your computer. In the Windows operating system version of Fall creators Update was a bug, because of which disappear miniature images of files after shutting down the PC. The system will recreate them every time, which will spend extra time, which depends on the number of media files on the hard disk.